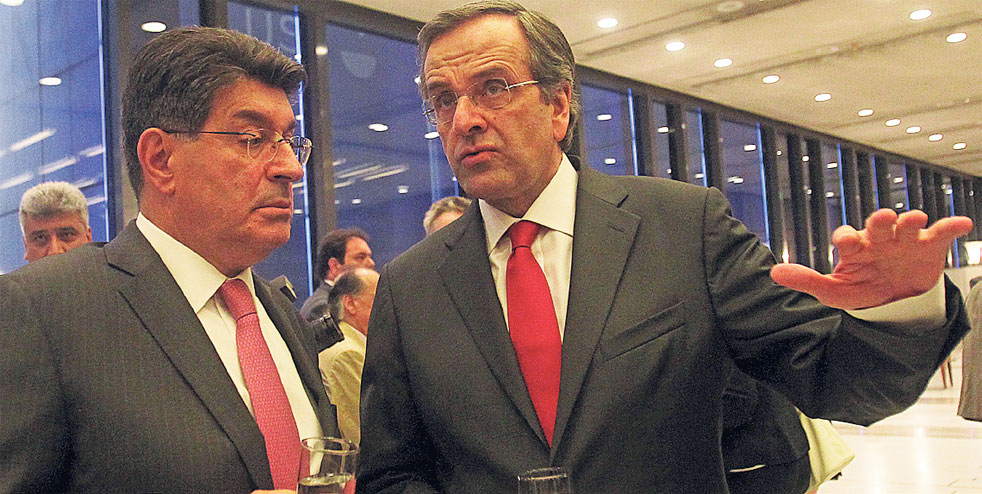 By Lefteris Yallouros – Athens
Prime Minister Antonis Samaras chaired an inter-ministerial meeting Tuesday attended by the president of the Federation of Enterprises (SEV) Theodoros Fessas in which the issues of the high cost of energy, reducing bureaucracy and finding a solution for non-performing business loans were discussed.
The government and the Federation of Hellenic Enterprises agreed to launch a direct communication line to boost production and tackle sky-high unemployment.
Other issues discussed were those of liquidity, competition, taxation, energy issues, capital mobilization, tax-evasion, tax reforms, simplifying procedures, innovation, and tackling informal labor.
Prime Minister Antonis Samaras said "we are fanatically in favor of entrepreneurship. The government will do everything possible politically, economically and socially to support industry and Greek businesses. There is no other way".
Speaking to reporters after the meeting, Development Minister Nikos Dendias said that industrial growth was a significant strategic aim for the government while on the issue of non-performing loans, Dendias revealed the government will present a draft text over the next few days to resolve the problem.
"The economy is showing signs of growth offering hope of more investments. The message from the private sector is optimistic," Theodoros Fessas told reporters, after the meeting. On non-performing loans, Fessas said there will be a legislative initiative by Development ministry with the aim to avoid creating a moral hazard.
According to government sources, the solutions proposed for dealing with NPLs will not affect bank budgets and will support businesses facing financial problems dues to the crisis and reduction of consumption.
Tuesday's meeting is considered one of the final steps before the government puts its plan in motion to deal with NPLs, an issue crucial to the country's economy. The coalition government's goal is to introduce a new settlement for all private debt in the fall. As the SEV Presidnet pointed out, dealing with this issue along with the recapitalization of banks through private funds and the access to capital markets by the Greek state, banks and businesses create hope for a return to normality in terms of funding the economy.