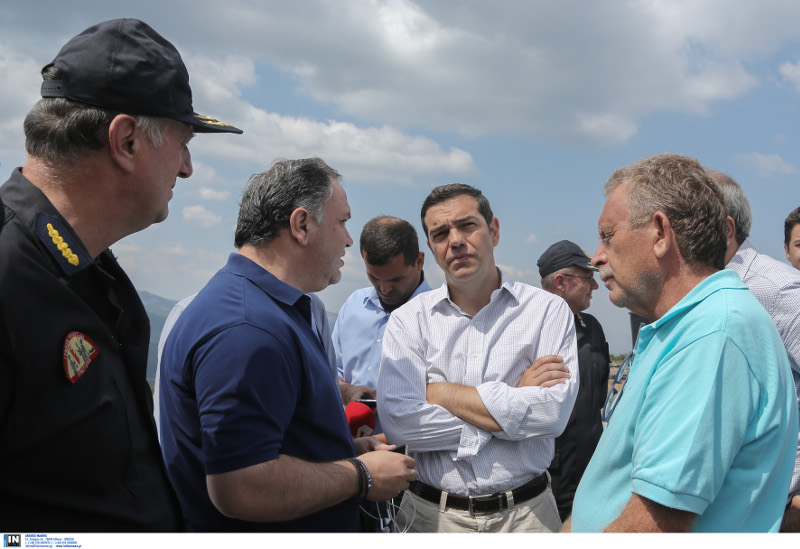 The Greek Prime Minister Alexis Tsipras visited the areas in eastern Attica affected by the major fires.
The prime minister flew over the burnt areas in a military helicopter. He then surveyed the fire ravaged area. There he spoke with Fire Department representatives as well as EMAK forces – Special Rescue Unit.
Through radio, the Prime Minister addressed all the firefighters across the wider region who are on stand by in case another fire occurs due to the wind, he expressed thanks and gratitude on behalf of Greek society as a whole. The officers stated that for a positive result, forces from all over Greece were moved to eastern Attica.
Strong Firefighting forces remain on stand by in case of other fires in the areas of Eastern Attica and Elia as well as the island of Zakynthos.
Thereafter, the Prime Minister convened a meeting at the Maximos Mansion where support  was decided for the victims through compensation and tax relief. Flood protection works and initiatives for the restoration of the burned forest areas ere also decided.
The meeting under Alexis Tsipras was attended by the Ministers of Interior, Digital Policy, Infrastructure and Transport, Panos Skourletis, Nikos Pappas, Christos Spirtzis, the Deputy Ministers for the Protection of the Citizen and the Environment, Nikos Toskas and Socrates Famelos respectively, as well as the Ministers of State Alekos Flambouraris and Dimitris Tzanakopoulos. Rena Dourou, Attica Region governor, was also present.
Deputy Minister of Environment and Energy Socrates Fammelos in statements he made to morning radio show "Proto Programma" of state broadcaster ERT, stressed that the forest maps are not affected by the fires, the burned areas are declared readily re-developable and their use is not modified. Tomorrow's goal – he added – is to prevent all causes of the fires.
All findings of the Fire Brigade will be evaluated to give a full picture of the cause. Fires are not only a natural phenomenon, but to a large extent they are due to man and we must take into account both of these points. We are alert to forest abuses, the minister said./IBNA