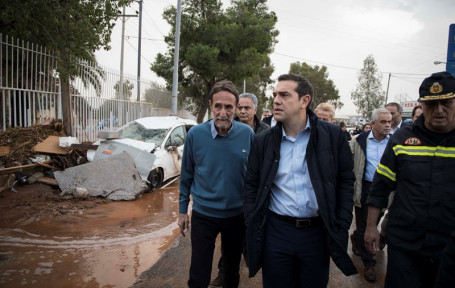 By Voula Kechagia / Government announcements regarding the measures for the financial aid to the people affected by the devastating floods in western Attica are expected soon. Government spokesman Dimitris Tzanakopoulos, conveyed the Prime Minister's desire for immediate reimbursement for all damages that have occurred and announced that, next week, government measures regarding the compensation of the flood victims will be implemented.
It is worth noting that the government has announced that the cost of funerals of the flood victims will be undertaken by the State.
While the country is in a state of national mourning, the Finance Ministry has announced that 5 million euros from the national section of the Public Investment Program have already been allocated  in order to facilitate the rehabilitation of the regions that have suffered the devastating consequences of the disaster.
Additionally, the President of the Hellenic Parliament announced during a plenary session of the Parliament discussing the budget for 2018, that one million euros would be allocated for the same reason, namely the relief of flood victims. He stated that: "I suggest that the Parliament, by a majority decision, underwrites immediately the amount of one million euros, perhaps in a special budget code, in order to help the flood victims."
It is also no coincidence that Prime Minister Alexis Tsipras raised the matter at the emergency EU Summit in Gothenburg where he spoke of the necessity of European solidarity in dealing with disasters and relief. It should be noted that President Emmanuel Macron had already communicated with the Prime Minister on Thursday, expressing his sympathy for the Greek government and his willingness to provide any possible additional support.
Upon his arrival at the Gothenburg EU Summit on Europe's social, growth and employment issues, the Prime Minister said that "Europe has been moving towards a neo-liberal direction in the recent years, a direction, which has led to the creation of huge inequalities both within and between Member States". The summit was convened by European Commission President Jean-Claude Juncker and Swedish Prime Minister Stefan Lofven.
It is important to note that the debate and the vote on the bill for the social dividend will be held on Monday in the Parliament…/IBNA