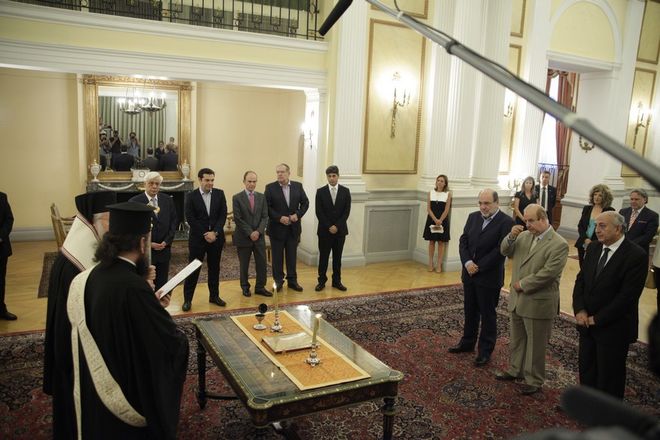 Athens, July 18, 2015/ Independent Balkan News Agency
By Spiros Sideris
PM Alexis Tsipras announced a Greek government reshuffle on Friday afternoon, expected since an earlier vote in Parliament this week, replacing "dissident" minister Panagiotis Lafazanis with previous labor minister Panos Skourletis at the production reconstruction and energy ministry.
Labor lawyer Giorgos Katrougalos will take over the labor ministry, while comedic actor turned politician Pavlos Haikalis was tapped as the … deputy social insurances minister. The latter MP belongs to the junior coalition party, the rightist-populist Independent Greeks' (AN.EL) party.
MP Olga Gerovassilis takes over for Gavriil Sakellaridis as government spokesman, who will serve as a Parliamentary group rapporteur instead. Another five MPs were promoted to deputy minister positions.
The new Cabinet
Prime Minister
Alexis Tsipras
Deputy Prime Minister
Giannis Dragasakis
Ministry of Interior and Administrative Reconstruction
Minister
Nikos Voutsis
Deputy Minister for Administrative Reform
Christoforos Vernardakis
Deputy Minister for Civil Protection
​Giannis Panousis
Deputy Minister for Immigration Policy
Tasia Christodoulopoulou
Deputy Minister of Interior and Administrative Reconstruction
​Pavlos Polakis
Deputy Minister for Macedonia and Thrace
Maria Kollia Tsarouha
Ministry of Economy, Infrastructure, Tourism and Maritime
Minister
George Stathakis
Deputy Minister for Infrastructure, Transport and Networks Affairs
Christos Spirtzis
Deputy Minister for Maritime
Thodoros Dritsas
Deputy Minister for Tourism
Elena Kountoura
Ministry of Productive Reconstruction, Environment, Energy and Rural Development
Minister
Skourletis Panagiotis
Alternate Minister for Environment
Giannis Tsironis
Alternate Minister for Rural Development
Vaggelis Apostolou
Deputy Minister for Rural Development
​Panagiotis Sgouridis
Ministry of Finance
Minister
​Efklides Tsakalotos
Alternate Minister for Revenue Affairs​
Trifon Alexiadis
Deputy Minister for the State Treasury
Dimitris Mardas
Ministry of Culture Education and Religious Affairs
Minister
Aristidis Mpaltas
Alternate Minister for Cultural Affairs
Nikos Xidakis
Alternate Minister for Educational Affairs
Tasos Kourakis
Alternate Minister for Research and Innovation Affairs
Kostas Fotakis
Deputy Minister for Sports Affairs
Stavros Kontonis
 Ministry of Labour   
MInister
Giorgos Katrougkalos
Deputy Minister for Social Solidarity Affairs
Theano Fotiou
Alternate Minister for Unemployment Affairs
Pania Antonopoulou
Deputy Minister for Social Security Affairs
​Pavlos Haikalis
Ministry of Health and Social Security
Minister
Panagiotis Kouroumplis
Alternate Minister
Andreas Xanthos
Ministry of Foreign Affairs
Minister
Nikos Kotzias
Alternate Minister for European Affairs
​Sia Anagnostopoulou
Deputy Minister
​Giannis Amanatidis
​
Ministry of Defense
Minister
Panos Kammenos
Alternate Minister
Dimitris Vitsas
Deputy Minister
Nikos Toskas
Ministry of Justice
Minister
Nikos Paraskevopoulos
Deputy Minister
Dimitris  Papaggelopoulos
Minister of State order to combat corruption  
Panagiotis Nikoloudis
Ministry of State for the coordination government work
Minister
Alekos Flampouraris
Deputy Minister of the P.M to coordinate the government's work
Terence Quick
Minister of State
Nikos Papas
Deputy Minister of the P.M and government representative
​Olga Gerovasili