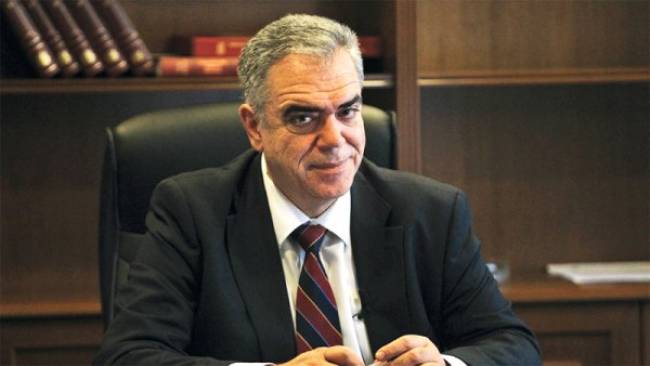 By Spiros Sideris – Athens
Only if Greece demonstrates suicidal tendencies  will there not be a smooth exit of the country from the Memorandum, assessed the Greek Deputy Foreign Minister Dimitris Kourkoulas, who participated in a round of consultations with six senior ministerial delegations from Germany and Greece.
Kourkoulas, in an interview with Deutche Welle, referred to the period up to December 8, when decisions will be made to exit the Memorandum, and considered that a de-dramatisation of the situation is needed.
"We have eaten the donkey, we are left with the tail, and I do not think that we will choke on the tail. Unless we show suicidal tendencies. I think that our partners recognise the sacrifices and achievements, particularly in respect to the fiscal adjustment and the reform of public administration", he said.
Referring to the issue of reforms he stressed that "they will continue to be of paramount importance, not only for Greece but for the whole of Europe", which "operates in a global economy and without continued reforms to ensure its competitiveness no country can survive in today's world".
Additionally, he heralded the beginning from the following year of the function of the Institute for Development, on the model of the German KfW.
As he pointed out, delays in its establishment weight solely the Greek side, referring to it as the permanent stain of the meetings of the Hellenic-German Partnership, since its beginning in 2010.
Participating in the fourth round of consultations, of which he was the coordinator, Dimitris Kourkoulas said the start of its funtion will help considerably in the Greek economy's liquidity.
Kourkoulas made a positive assessment of the meeting in Berlin, speaking of a "partnership" that "progressing very positively in areas such as innovation and research".
"Since 2013 there have been actions in three different areas and I think that is indicative of the dynamism of some new Greek firms that specialise in areas of innovation and high technology. That field is very bright for further deepening of the cooperation with Germany. On the issue of the reform of the health system, several joint actions have been taken that have produced impressive results", he said.
He also heralded a visit by the German Minister of Economy Zigmar Gabriel in Athens, in late spring of 2015, with a large delegation of businessmen to promote exports, recognising that attracting investment is not confined only to the liquidity of the economy and business visits, but also needs a climate of political and economic stability, to a big extend.
"The prospects are there, provided we do not have political or other turmoils. It is understood that the Republic will continue to operate, as long as it is not done in a manner that does not adversely affect the economy", Kourkoulas stated.