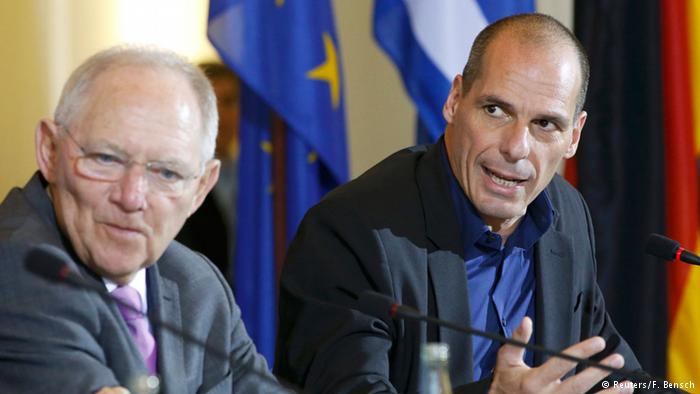 Athens, February 6, 2015/ Independent Balkan News Agency
By Lefteris Yallouros
Greek Finance minister Yanis Varoufakis held talks with German counterpart Wolfgang Schauble Thursday as the new Greek government seeks for a way out of its bailout – agreement with international lenders.
The two ministers agreed to disagree on the future relationship between Greece and its lenders; Varoufakis insisting a new "contract" is needed and Schauble maintaining the current bailout should be wrapped up following a review by the troika.
"We didn't discuss Greece's debt schedule for repayments, we didn't discuss a haircut. We set the scene for deliberations that will lead to an approach which will put an end to this seemingly never-ending crisis" the Greek FinMin said.
Varoufakis promised that Greece's new government would unleash "a frenzy of reasonableness" while urging European leaders to use the Greek government to "turn the page" in Europe, even if they don't approve of it.
Schauble said in reply: "I told my colleague that we respect the Greek electorate's will but that in every European Union member state the electoral will of voters in all other countries also has to be respected. The reasons for the difficult path that Greece must follow lie in Greece, not in Europe."
The German minister also warned that Greece faces an uncertain future without a bailout program, suggesting he did not support Varoufakis's call for a bridging loan.
Meanwhile, IMF spokesman Gerry Rice said on Thursday that a meeting between Varoufakis and Fund official Poul Thomsen over the weekend had not involved a detailed discussion and that the Washington-based organization is waiting for the Greek government to present its positions.
Overall, the Greek government's attempts to persuade lenders that a different approach to its financing needs is necessary has fallen on deaf ears. Athens, however, believes the negotiation has only just started and there is room for the government to agree better terms.
Prime Minister Alexis Tsipras addressed SYRIZA MPs on Thursday, stressing that "Greece doesn't want to blackmail or threaten anyone. It also won't be threatened by anyone, because democracy in Europe cannot be blackmailed". He also stressed that his government would negotiate hard and would honor pledges made prior to the election, noting that it was a duty to "not allow citizens to be cheated again."
Main opposition leader Antonis Samaras, meanwhile, who also spoke to his party's deputies, said that the ruling party is only now coming to terms with reality. "Today, everyone realizes that it is one thing to scaremonger and a completely different thing to warn about the real dangers," the former PM said.