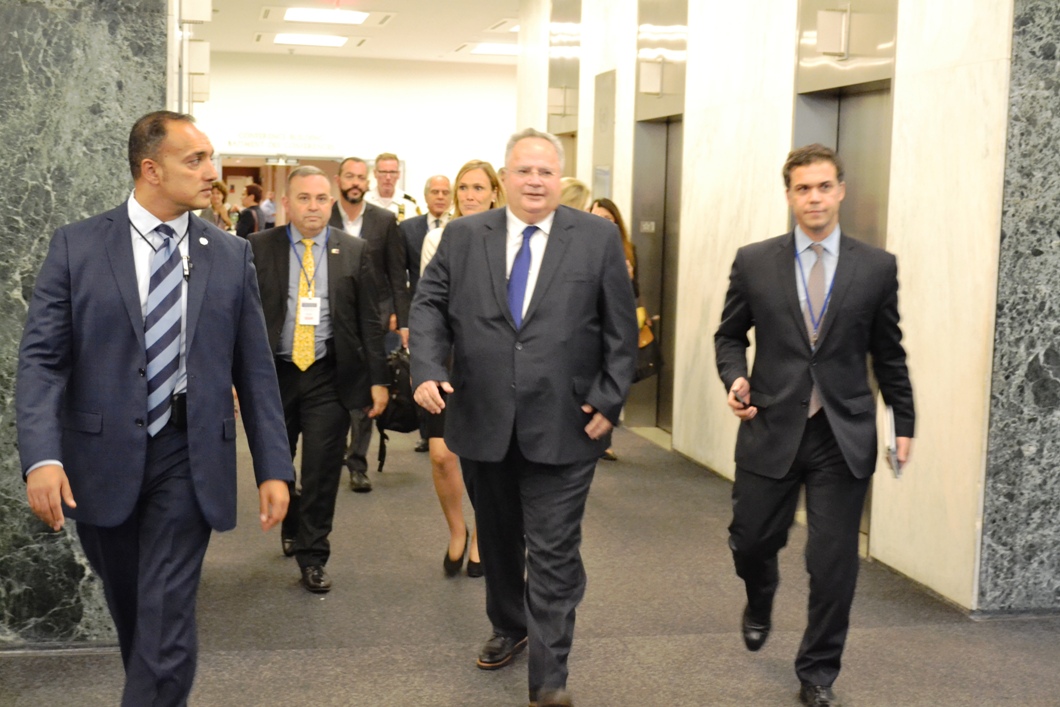 With the subject of the General Discussion "Focusing on People: Striving for Peace and Decent Life for All on a Sustainable Planet" officially start the works of the 72nd UN General Assembly in the presence of Greek Foreign Minister Nikos Kotzias as the head of the Greek delegation. Among the speakers will be UN Secretary General Antonio Guterres and US President Donald Trump.
According to the so far announced program, the Greek Foreign Ministry will hold a series of bilateral meetings, as well as attend official events of both the EU and the US President, on the sidelines of the 72nd UNGA.
The bilateral meetings in the Nikos Kotzias' program include a meeting with Bishop Paul Richard Gallagher Secretary for Relations with States of Vatican, in which regional and international issues will be discussed, where, according to IBNA, the FM will express the gratitude of the Greek Government to the Pontiff for his attitude to the refugee crisis and bilateral cooperation issues.
With the Secretary of State for the United Arab Emirates, Anwar Mohammed Qarqash, the Greek Foreign Minister will discuss the further development of the already very good political, economic and cultural relations between Greece and the UAE. They will refer to the progress of the important bilateral agreements that have already been signed, such as the Air Transport Agreement, the Double Taxation Agreement and the Military Cooperation Agreement between the two countries, bilateral and international issues focusing on terrorism and refugee status, while reference will be made to Greeks living and working in the UAE.
Of great importance is the meeting between the President of the Republic of Cyprus Nicos Anastasiades and Foreign Minister Ioannis Kasoulides with the Greek FM, as the two sides will discuss the latest developments in the Cyprus issue and the tactics they will follow in their contacts with the International community on the sidelines of the 72nd UNGA.
Late in the afternoon, Mr Kotzias will also have two bilateral meetings. The first will be with Morocco's Minister of Foreign Affairs and International Cooperation Nasser Bourita and the other the Executive Director of the American Jewish Committee David Harris.
The Greek Foreign Minister will also sit at the SG dinner in honour of the Heads of Delegations. Late in the evening, he will attend an EU reception which will be attended by European Parliament President Donald Tusk, Commission Vice-President Frans Timmermans and EEAS High Representative Federica Mogherini, as well as the US President's reception in honour of the Heads of Delegations./IBNA