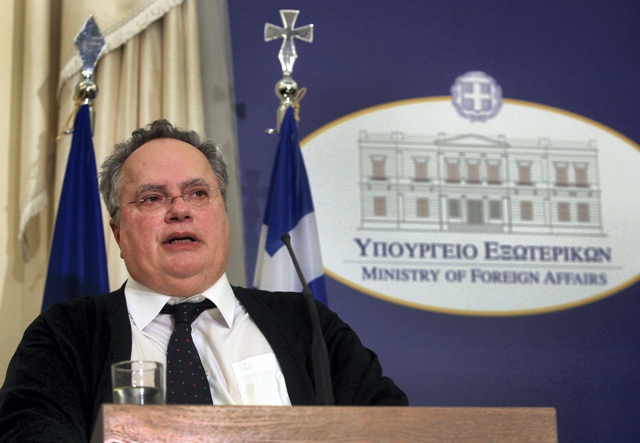 Tirana, 25 May 2015/Independent Balkan News Agency
Greek Minister of Foreign Affairs, Nikos Kotzias has decided to hold a tour of visits in several countries of the Balkan. Sources from the Greek Foreign Ministry say that Mr. Kotzias will start his tour in mid June 2015 with an official visit to Belgrade (Serbia). Immediately afterwards, Mr. Kotzias will arrive to Albania, where he will have official meetings with the highest state leaders.
The tour of the Greek Foreign Minister continues with Kosovo. Mr. Kotzias will then travel to Montenegro and continue with another visit to Bosnia and Herzegovina.
Mr. Kotzias will close his tour in Skopje.
Mr. Kotzias' visit to Albania is expected to attract attention, following the cancellation made last week by the Greek Foreign Minister to his visit in Tirana to participate at SEECP meeting, the chairmanship of whom is held by Albania until June.
Tirana and Athens are facing serious problems as far as sea borders are concerned. Both governments have launched international contests for the search of oil and gas in the Ionian sea, in the same water spaces.
***
Meanwhile, Mr. Kotzias also warned a high level meeting between the prime ministers of Bulgaria, Romania and Greece which will be held in September, very likely in Athens.
During a radio interview, the Foreign Affairs Minister referred to "highly interesting discussion" he had with the Bulgarian ambassador in Greece and revealed that high-level government meetings between the two countries will likely take place in September.
According to Mr. Kotzias, the partnership between Bulgaria, Romania and Greece will strengthen their voice within the European Union, regarding the Western Balkans.
He also noted that the Western Balkans is "a source of instability" and noted that "instability gives birth to nationalisms and nationalisms can give birth to problems". Mr. Kotzias stressed that Greece "does not want to a part of the problem", but rather to support its national interests. /ibna/