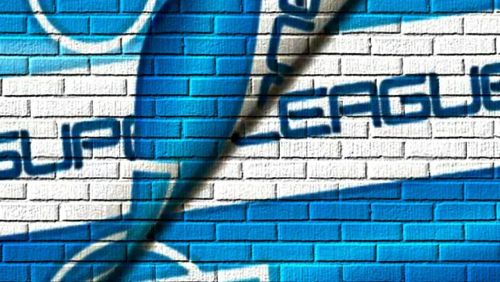 By Eric Blackmore
The "murderous attack" on an official of the Greek Central Refereeing Committee, Christoforos Zografos, on November 14, has reignited the debate about the rotten state of Greek football. Following the violent attack on the referee by two unidentified men with wooden bats, who swiftly sped away on a motorbike, the Hellenic Football Federation (HFF) announced the suspension of all professional football matches in the country.
While violence in Greek football is hardly a new development, the most recent attack begs the question of why the government, beyond its regular declarations that it denounces football violence and is determined to put a stop to it, has failed to take any real steps in this direction. In spite of overwhelming evidence that angry mobs are taking over Greece's football pitches, throwing Molotov cocktails, petrol bombs and chairs at the rival team and fans, Greek riot police have repeatedly failed to install any order. At the end of September 2014, another incident made international headlines when a football fan died in hospital after violent clashes at a third division match in Crete.
Marinakis – a knight in shining armor?
Amid the recent attack, Olympiacos FC strongman, Evangelos Marinakis, quickly emerged in the international press to denounce the violence and vouched for the need to all "work together to stop this filth". However, a quick look at Marinakis' history of involvement in match fixing scandals only underlines that he is far from the gallant knight in shining armor he has fashioned himself out to be.
In 2011, Marinakis was accused of involvement in the Koriopolis scandal during which the Club President, among HFF officials, players, and referees was accused of forming a criminal organization in Greek football charged with bribery, money laundering and violence. Although over 80 individuals allegedly took part in the gang, telephone recordings and court documents made public by deputy sports prosecutor Andreas Koreas in 2014, show Marinakis as one of the main players in the group, using his power to influence the appointment of referees and threaten those who stepped out of line. The recordings also contain the affidavit of former referee Petro Konstantineas, who told prosecutors how his personal bakery was set alight, after he refused to fix a match in favor of Olympiacos.
While Marinakis swiftly came forward to the police and the Hellenic Football Federation to present vital information about the November 14 incident, which he was apparently privy to, it has become clear that he is hardly the best person to preach for the cause.
AEK Athens President, Dimitris Melissanidis, whom Marinakis accused of canoodling with HFF President Giorgis Sarris to appoint favorable referees to second division matches, was quick to point out the obvious. Considering Marinakis allegedly helped in the election of Sarris to his Presidency and the duo have been suspected of working together in appointing referees in past scandals, Melissanidis underlined that "those who are accused of blackmailing, bribing, beatings and explosions, and who have ignored any value of healthy competition by undermining soccer in our country, have the cheek to speak about morality, values and progress", clearly referring to Mariankis' suspected role in previous scandals. So far, Marinakis has managed to escape the ropes of justice, aided by the snail-paced justice system and the endless postponements to the match fixing case, which was supposed to see Marinakis testify in Court in September.
Melissanidis is not the only one to have voiced his concern in this regard, as Olympiacos' long time rival, Panathinaikos, also expressed its condemnation for the violent incident and blamed the government for "its criminal tolerance of the growing rot in soccer". A few weeks before, during a Athens derby between Olympiacos and Panathinaikos, reports emerged of a controversial penalty being awarded to the former and that the final winning goal in favor of Olympiacos come from a widely contested free kick. Yiannis Alafouzos, Panathinaikos' owner, denounced Olympiacos' victory in the derby, claiming that the "result was distorted" blaming corrupt and bought referees for skewing the match.
Discipline from the top?
Amidst these allegations of violence and corruption, the HFF has also been rather fruitless in getting to the bottom of these cases, and various testimonies from the current probe into match fixing indicate that these practices have imploded in the organization's own ranks.  In his 50-page indictment, prosecutor Koreas underlines how a Super League referee was approached by HFF officials before a match with the intent of securing a specific result for the game, along with other evidence of match rigging on behalf of a Super League club president and associates.
The dark road ahead
The most recent incident of violence against the ex-FIFA referee comes after further worrying news that Hugh Dallas, a Scottish referee recently appointed to the position of President of the HFF Committee of Referees, has also been receiving death threats. His appointment was considered a fresh effort to include foreign officials in the HFF to select and assess referees and to aid Greek football in ridding itself of the constant allegations of match-fixing that surround it. However, the task has proven too weighty for one man fighting against the entire web of Greek football corruption, and most recent threats have sparked rumors of his swift departure from the position.
Despite this half-hearted effort to clean the football industry's slate, it appears the system continues to rot from the inside as "the government plays the role of the passive viewer, showing a characteristic indifference". Until Greece's government shows real efforts to fight this affliction and hold HFF officials, club Presidents and other players accountable for their actions, match fixing and violence will continue to define Greek football. No amount of foreigners will make a difference, assuming they risk their lives long enough to try.