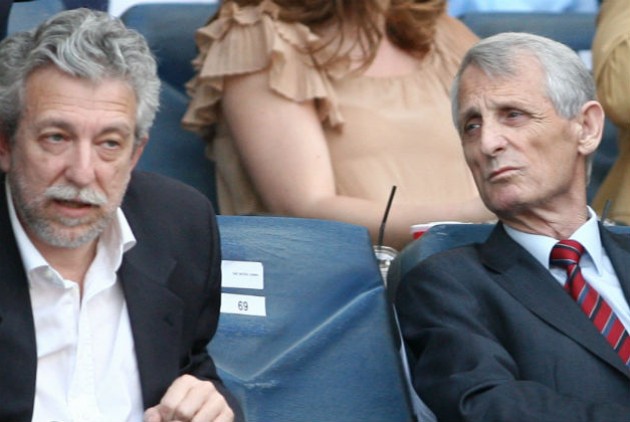 Athens, April 13, 2016/Independent Balkan News Agency
By Spiros Sideris
Positive was the outcome of the meeting between the deputy minister of sports Stavros Kontoni, the president of the Greek Football Federation (EPO), Giorgos Gkirtzikis, and the FIFA representative for the Greek issue, Costakis Koutsokoumnis, regarding the resumption of the Greek Cup and the avoidance of a Grexit.
In the discussion it was decided that EPO will withdraw its request for cancellation to the State Council of the decision of the deputy minister of sports for the cancellation of the Greek Cup.
Stavros Kontonis will decide the resumption of the competision, which was suspended after the riots in Touba by hooligans of PAOK in the first semifinal against Olympiakos.
The Minister is expected to meet in the coming days with Alexis Tsipras to get the "green light" for this development.
The Prime Minister had supported the discontinuation of the Greek Cup, with the state requiring the removal from the offices of the Federation of the persons prosecuted for felony.
If Kontoni's decision is lifted until Friday, the day of the FIFA deadline Greek authorities to resolve the issue, all parties decided the World Federation intervention in the issue.
Since the beginning of next week, a FIFA schelon will be in Greece to examine the statutes of EPO, and the Code of Conduct in order to align with the international framework, a prerequisite demanded by the Kontonis side.
Additionally, the echelon will examine the arbitration regulations, while sports minister pledged to review a number of sports laws, which according to FIFA intervene with football self rule.
Koutsokoumnis: We will see for the final
The person in charge of FIFA and president of the Football Federation of Cyprus, confirmed the decision, initially stressing: "Until Friday, Mr. Kontonis finally decides to relaunch the Cup".
Beyond that, he spoke for the final of the Greek Cup, stressing that no decisions have been taken nor how the fight will take place or where: "We haven't agreed on the final. I reiterate that there is a commitment to start the Cup again. We will see how the final will take place. Maybe outside Athens, perhaps without supporters, perhaps with children in the stands".
Gkirtzikis: The point is to have football
The president of the EPO, George Gkirtzikis appeared reserved for the final decision to reopen the Greek Cup and prevent a Grexit.
"We decided at the Board of EPO and is known. Let us not hurry until Friday. I will not say if soccer comes out the loser. The point is to have football. I can not tell you for sure. Maybe the Grexit has been avoided" .
"We have made an appeal to the State Council for the Cup. Once it is done there is no reason for an appeal. We have time to finish with the Cup, just as long as we finalise Friday".