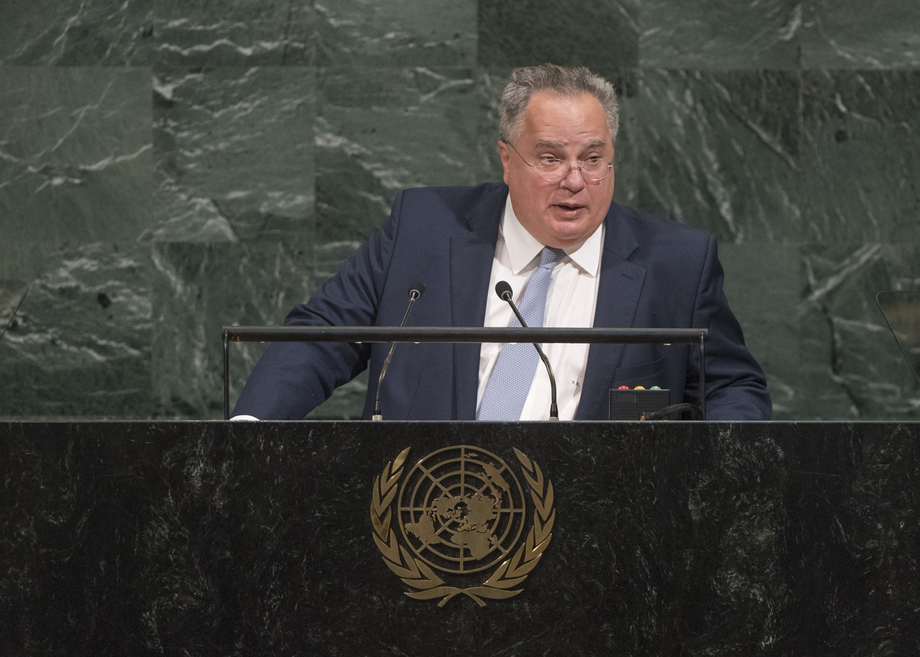 Greek Foreign Minister Nikos Kotzias will participate in the works of the 73rd Session of the UN General Assembly in New York, as well as in high level meetings and events, focusing on issues of regional and global interest, according to the relevant Greek Foreign Ministry.
On Monday, Nikos Kotzias will attend the US President Donald Trump's "Global Call to Action on the World Drug Problem", as well as the Foreign Ministers' Meeting of the EU. On September 25, he will participate in an event hosted by UN Secretary General António Guterres, on Peacekeeping Business and also at the Transatlantic Dinner of Foreign Ministers, "where he will have the opportunity to promote Greek positions."
On Wednesday, September 26, he will take part in the round table discussion on the role of education in combating racism and discrimination.
Some of his important contacts will be those with his counterparts from Albania, Lebanon, Morocco, Jordan, the UAE, Palestine, Peru, Azerbaijan and Kazakhstan, but with representatives of Cypriot and Jewish organisations such as , as well as representatives of international and regional organisations.
Contacts of special interest:
-Bilateral meeting with his Indonesian counterpart Retno Marsudi (signature of Memorandum of Understanding on visa exemption in diplomatic passports) (24/9)
-Bilateral meeting with Peru's Foreign Minister Nestor Popolizio (24/9)
-Quadrilateral Meeting of Greek-Bulgarian-Croat-Romanian Foreign Ministers (26/9)
-Ministerial Meeting of the members of the Forum of Ancient Civilizations (ACForum), which will be convened for the second consecutive year (27/9). The ACForum was first launched in Athens in April 2017, at the initiative of Mr. Kotzias and that of his Chinese counterpart, Wang Yi
-Meeting with the UN Secretary-General's Personal Representative on the name issue (with fYROMacedonia), Matthew Nimetz (27/9)
On Thursday there will also be an open debate on Greek foreign policy organised by the international think tank Council on Foreign Relations (CFR), in which Nikos Kotzias will be the main speaker.
Greek Foreign Minister is among the top executives of the Greek government who accompany Alexis Tsipras on his trip to New York…. / IBNA
Main Photo (File): Nikos Kotzias addresses the UN General Assembly in 2017