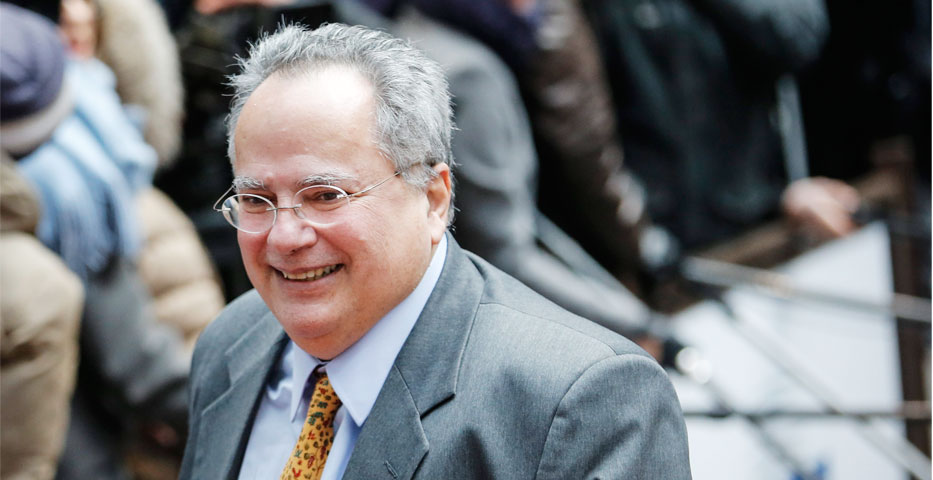 Athens, May 05, 2015/ Independent Balkan News Agency
By Spiros Sideris
Optimistic on the possibility of an agreement in the Eurogroup appeared the Greek Foreign Minister Nikos Kotzias at the first meeting of the National Foreign Policy Council chaired by Kotzias.
Asked about the connection of economy and foreign policy, set by ND MP Giorgos Koumoutsakos, Kotzias replied that "foreign policy is always related with finances, but it can help strengthen the economy, as the relationship is sometimes the other way around".
At the same time, he referred to the upcoming trip to Turkey, saying he will go "equipped with the thoughts of other parties", describing the discussion on Turkish relations as "very interesting".
He expressed his satisfaction with the "creative discussion that took place with representatives of all parties, experts and the leadership of the administrative staff of the Ministry of Foreign Affairs".
On the invitation to representatives from the Golden Dawn (GD) to attend the meeting, the foreign minister replied that "the Bureau of Parliament unanimously calls in each session of Parliament the GD. Respectively, an institution that is provided for by the Constitution, like the Parliament, must invite those who are elected in the House".
Earlier, ND MP Giorgos Koumoutsakos referred to the connection of economy, as the "fundamental factor of national power", with foreign policy "as two sides of the same coin" in "a particularly crucial moment".
"A dead economy cannot support a proactive policy", he said, adding that "now it is certain that the state of the economy influences the course of national issues".
Koumoutsakos stressed to the boaed that a "rupture with partners will be a disaster", noting an "urgent need for an honest deal", since "this affects all of the country's possibilities to exert an effective external policy in the protection of its national interests".
The NFPC, as he said, "is an institution of confidence-building, briefing and the greatest possible consensus on matters of foreign policy", which "requires a full substantive and honest briefing on all issues. We look forward to the next meeting that will be on the Cyprus issue and we even asked one in the next period on the developments in the Balkans".
Replying to a journalist's question, Koumoutsakos said that "there was an understanding in the current strategic discussion on the key points, but different views were expressed with regard to tactical actions, different views as a constructive complement to the FM thoughts".
The River MP Spiros Danellis said after the completion of the meeting: "We in The River believe that there is a national duty for all the country's political forces, especially in this extremely difficult situation, the understanding and the attempt to achieve the maximum possible consensus on all issues concerning the country and society. Even more in foreign policy".
"We", he added, "believe in and support the institution of the National Council on Foreign Policy and pledge that our language and our proposals will be political and not partisan".