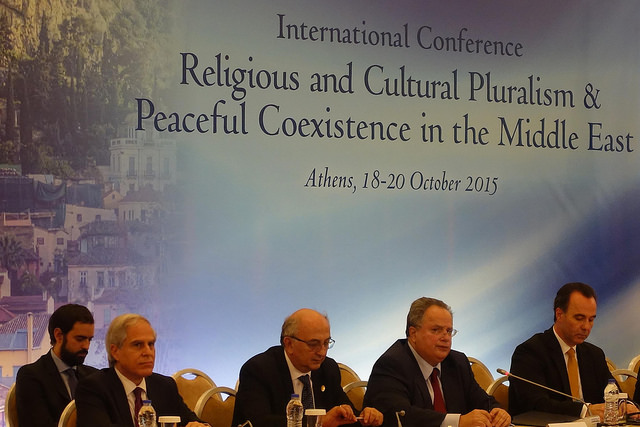 Athens, October 21, 2015/Independent Balkan News Agency
By Spiros Sideris
His intention to open headlong the "sails" of foreign policy in a new international context with two new initiatives, announced the Greek Foreign Minister Nikos Kotzias after the conclusion of the international conference on "Religious and cultural pluralism and peaceful coexistence in the Middle East", which was organized in Athens.
At the press conference which officially closed the conference, Kotzias explained that the first initiative refers to the Greek proposal to open the debate on the values ​​on which Europe's foreign policy will be based on the future, escaping the character of sanctions and embargoes.
The second, which began four months at the Foreign Ministry, as the minister said, will involve an International Secretariat of GS10, the largest cultural countries, highlighting the importance of culture as a soft power of foreign policy, which is supported by the strength of tourism. An initiative to which, as he noted, have already agreed a number of countries, from China to Mexico.
These two initiatives follow that of the International Observatory for the protection of religious and cultural pluralism, which was announced – in the conference – and is an effort which will be launched immediately, with the assistance of the participants both regarding its formation and its goals and action, based in Athens and with international participation.
Regarding his first initiative, the International Conference, which was crowned with success, as Kotzias noted, since it involved 80 speakers from 45 countries, especially the religious leaders of the Middle East region, it was agreed that there is an urgent need for a political solution in Syria and support of Iraq, while at the same time, it was pointed out that immediate initiatives should be taken for the protection of cultural and religious minorities and monuments in the affected area.