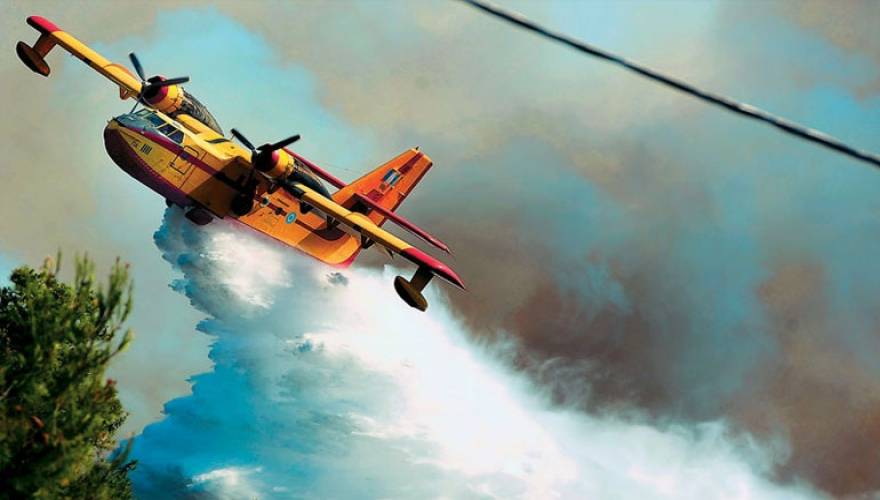 The Hellenic Air Force is currently carrying out a huge firefighting mission, not only within Greece but also outside Greek borders.
Two Greek firefighting planes have been sent to help out in fires in Albania since Thursday. The decision to send Greek firefighting vessels was taken at the request of the Albanian government, according to sources.
According to information from the Hellenic Airforce, 2 PZL-Mielec M-18 Dromader executed three sorties to Avlona, ​​Albania, which equals 12 flight hours. From Thursday until today, 2 PZL have executed 14 sorties and 30 flight hours to Avlona, ​​Albania.
According to a statement by the Greek General Secretariat for Civil Protection, Greece has also offered ground firefighting forces, but the Albanian authorities have advised against it since the soil morphology in the affected areas does not allow for such an attempt to be made.
According to the Albanian Civil Protection Authorities, the fires that occurred on August 1 in the southern regions of the country are still out of control. In fact, the situation is considered critical due to the strong winds, the high temperatures and the mountain topography.
Lastly, it is worth noting that following Albania's request to the European Civil Protection Civil Aviation Mechanism, Greece is the only country that responded despite its own high demand of aircraft due to the large number of fires in Greece at the moment.
It is worth mentioning that assistance by the Hellenic Air Force is taking place following a request made to Foreign Minister Nikos Kotzias by his Albanian counterpart, while activating the European Civil Protection Mechanism./IBNA