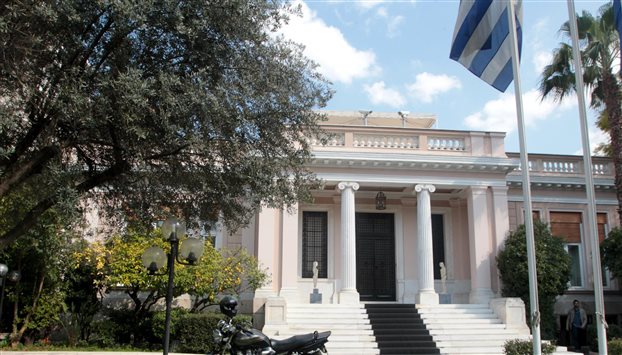 Athens, March 23, 2015/ Independent Balkan News Agency
By Spiros Sideris
A new meeting of the economic team was held Sunday afternoon under Prime Minister at the Maximos Mansion, for the creation by the government of a costed list of reforms that should ensure the "green light" from the Eurogroup.
The meeting was attended by Deputy Prime Minister, Giannis Dragasakis, Finance Minister, Yanis Varoufakis and Deputy Minister of Foreign Affairs, responsible for International Economic Relations, Euclidis Tsakalotos.
The meeting lasted an hour. Coming out of Maximos Mansion the government ministers did not make any statements.
The completion of a package of reforms to be accepted by the Eurogroup is only part of the big bet Tsipras will have to win. The second is that these reforms must be accepted within SYRIZA, given that they will have financial aspects. This is something extremely difficult if one remembers the reactions caused to the Parliamentary Group of the ruling party the vague agreement of February 20.
De Guindos: First reforms and then cash to Athens
Greece will not receive a single euro by its creditors before applying the reforms proposed by the Greek government, says in an interview to «Financial Times» Finance Minister of Spain, Luis de Guindos, essentially bringing down the hopes of Athens for the immediate disbursement of the 'frozen' EUR 7.2 billion only by the presentation of the proposals.
"We'll see if the list of reforms is fairly comprehensive or not. But there will be no disbursement before there is a real test, before the reforms are adopted and implemented", de Guindos.
"We have lost time and the communication strategy on the part of the Greek government has not been the best. The Greeks do not have many friends", he stressed, noting that the European governments were united against Greece. "There are no deviations despite the fact that the Greeks tried to take advantage of any discrepancies. These however do not exist".
Referring to the liquidity problems faced by the Greek government, he said the solution is to accelerate the overall process of development and implementation of reforms. "It is important to accelerate to make up for lost time", the Spanish FinMin said, adding that the Greek government should pursue a "real privatisation program" and to take measures aimed at strengthening the competitiveness and productivity and to combat monopolies and oligopolies.
The statements by the Spanish Finance Minister reflect the hard line adopted by Madrid towards Athens' request, and come a day before the meeting of Greek Prime Minister Alexis Tsipras with German Chancellor Angela Merkel in Berlin.