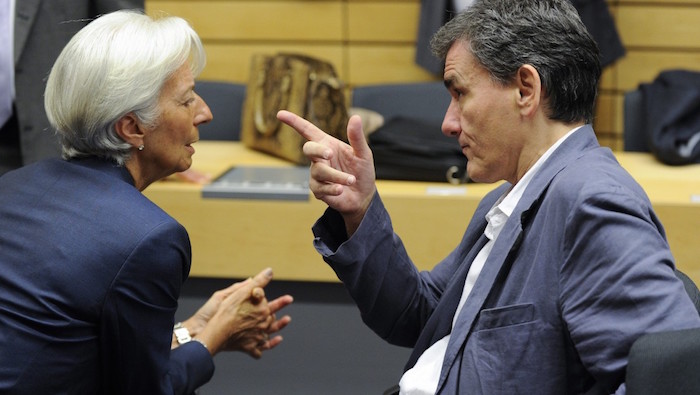 Greece's Finance Minister, Euclid Tsakalotos, held a series of meetings with senior International Monetary Fund officials and prospective investors
on Sunday
, as part of his visit to the United States, where the Greek Prime Minister is also set to meet with President Donald Trump
on Tuesday
.
Tsakalotos met with IMF Managing Director, Christine Lagarde, whom he urged to clarify whether the Fund will join the Greek bailout programme as a fully-fledged lender or not.
In any case, the Greek Finance Minister made clear that Athens is determined to tap markets soon again, for the second time this year. This will help the Syriza government achieve its main objective which is a 'clean exit' when the bailout expires next year.
The meeting was reportedly held in a positive climate, with both sides agreeing on the need to wrap up the third review of the bailout programme – which is set to formally begin in the next few days – swiftly, by the end of 2017. Subsequently, dealing with Greece's huge pile of sovereign debt can be discussed, the two officials agreed. The extension of debt relief to Greece is a crucial issue where the IMF and Athens are in complete agreement.
Tsakalotos also met with Under Secretary of the Treasury for International Affairs David Malpass. The US official said that he supports the Fund's call for Greece to be granted significant debt relief and promised that Washington will urge the German government to seriously consider the issue.

 
Speaking at a scheduled press conference in Washington last week, the IMF chief for Europe, Poul Thomsen, reiterated the Fund's call for Greece's European creditors to announce details of the debt relief that will be extended to the country.
Thomsen also made clear that the IMF will not demand that Athens implements fresh austerity measures in 2018, despite speculation – mostly in the Greek press – pointing to the opposite…/IBNA