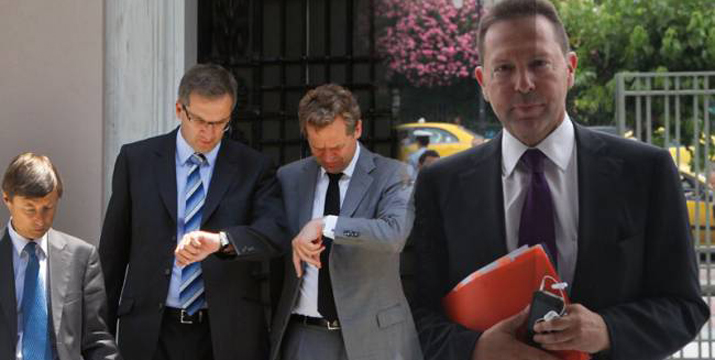 By Lefteris Yallouros – Athens
Greek Finance Minister Yannis Stournaras expressed his confidence that a solution will be found in negotiations with the troika before the year is out.
Stournaras made the comments after a cabinet meeting chaired by Prime Minister Antonis Samaras in Athens Monday.
A compromise should be found before Greece takes over the rolling EU Presidency in the first half of 2014.
"We will find a solution. This is what should happen" the minister said.
Cabinet ministers discussed progress in the mobility scheme in the civil service as well the outstanding prior actions that must be pushed through before the troika arrives in Athens early December to continue talks with the government.
Prime Minister Antonis Samaras reportedly urged key ministers to redouble their efforts to meet economic reform targets in order for the next tranche of rescue money to be disbursed.
Amongst issues discussed was the lifting of restrictions on foreclosures and collective dismissals in the private sector. Urgent issues that are major obstacles in negotiations with the troika were also discussed in the meeting.
The government must complete a list of 4,000 civil servants to be dismissed by the end of the year. The fate of state defense company EAS is also a stumbling block as the troika has pushed for its abolition while the government wants to keep it running while carrying out reforms within the organization.
Meanwhile, news on the fiscal front are encouraging as Greece on Monday reported a primary budget surplus of 2.590 billion euros in the January-October period, from a primary deficit of 1.139 billion euros in the same period last year and compared with a budget target for a primary deficit of 3.036 billion euros, official figures showed.