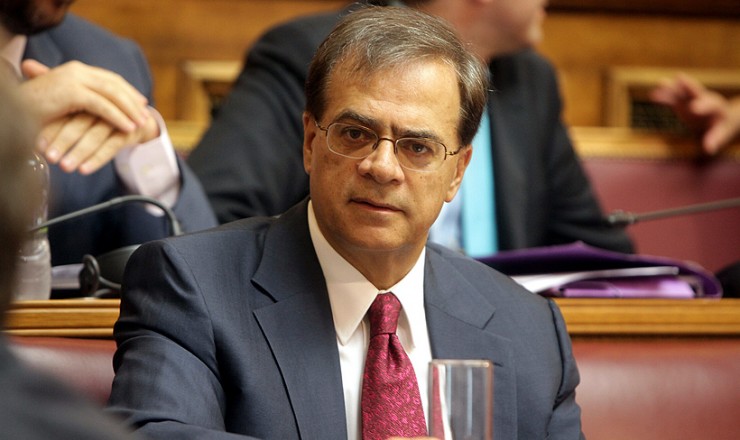 Athens, January 14, 2015/ Independent Balkan News Agency
By Lefteris Yallouros
Greek Finance minister Gikas Hardouvelis (photo) warned that failure to conclude the adjustment program will prove costly for Greece.
Speaking at the Hellenic – German Chamber of Commerce on Tuesday, Hardouvelis said there is very little time for whichever government emerges from the January 25 election to complete a deal with the troika on the conclusion of the current bailout deal. If an agreement is not reached promptly, Greece could find itself without funding, prompting Greek banks to use the Emergency Liquidity Assistance mechanism.
"The time is not long and an extension is likely to be required," he Fin Min said.
Hardouvelis added that Greece will also need to return leftover bank rescue funds amounting to EUR 11.4 billion while it would be almost impossible for Greek banks to take part in much-awaited quantitative easing.
The Finance ministry has revealed that Greece has already exhausted a EUR 15 billion cap on treasury bill sales and would need the consent of its European Union and International Monetary Fund creditors to sell more.
In an interview with Bloomberg released earlier on Tuesday, the Greek Finance Minister underlined that "breathing space" could come from further extending the duration of the loans, and taking advantage of liquidity conditions by transforming floating-rate loans to fixed rate.
Should Alexis Tsipras come to power, Hardouvelis urged the SYRIZA leader to reverse the left wing party's stance and negotiate an extension to the bailout before the aid supporting Greece expires on February 28. The minister warned that Greece could exit the euro by accident in a stand-off with Europe.
In an interview on Greek television Monday Alexis Tsipras appeared unphased by the prospect of renegotiating Greece's EU-IMF bailout deal. "There is not even a chance in a million that (German Chancellor Angela) Merkel will refuse to negotiate," Tsipras told Star TV.