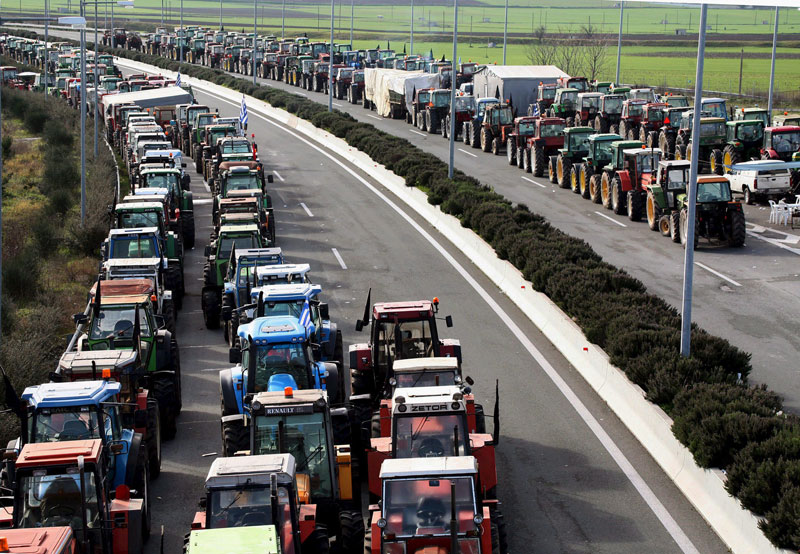 Athens, February 1, 2016/Independent Balkan News Agency
By Spiros Sideris
Greek farmers blockaded Tempi for six hours on Sunday afternoon, while from Monday they are determined to intensifying the pressure on the government by increasing the hours of the Valley's blockade. At the same time, they will proceed with the indefinite closure of the customs office of Kipi in Evros starting Monday 11:00.
Αt noon Monday the farmers in Tempi will decide on the specifics of the continuation of their mobilisations, oriented towards increasing the hours of the blockade, when the General Assembly of the blockade will convene. According to information, their intention is to proceed with a 12-hour closure of Tempi.
As regards Evros, the farmers appear determined to blockade the customs office of Kipi and state certain that will be able to meet the needs for food and water of professionals truck drivers, who will find themselves immobilised.
Moreover, by 5 pm Monday, as has already announced the blockade of Nice, tractors from this blockade – where the Athens-Thessaloniki highway has been permanently closed since the first day of protests, due to the number of trakters – will move to the intersection of Platykampos in order to close it for at least two hours furhter hindering traffic.
Meanwhile, the president of the Farmers' Initiative Theodoros Papaconstantinou has made it clear that no meeting with the Prime Minister has been scheduled.
"There wasn't an agreement to go to the Maximos Mansion. This is our intention. On Saturday in Agrotica there was a big meeting of the Initiative with the other blocks. The previous evening Mr Rigas and a representative of Imathia asked us to table our positions, and we were told that they are open to dialogue, Papakonstantinou said, noting that the secretary of SYRIZA proposed to mediate the meeting.
"The intention of the Initiative since the beginning of the protests was a meeting with the prime minister", said the president of the Initiative. "After the our big rally we will convene again and decide which day we will go", he concluded.
The blockade at the customs office of Promachonas, on the Greece – Bulgaria border, which has "banned" since Tuesday, January 26, 2016 entry to trucks and lories, granting free access to buses and cars since early on Sunday evening, will continue with the same rate until Monday, as the farmer-union member of Visaltia, Stergios Litos.
At the toll of Malgara, where there are more than 800 tractors lined up, the blockade has been decided for 16.00-20.00.
Farmers continue to control the passage from the Egnatia Road (Highway that crosses northern Greece) since January 20, at the junction of Kerdyllia, with more than 800 tractors, while they proceed with the symbolic blockage of the bypass roads for no more than one hour each time. "From Monday the situation may change", said farmer-unionist Yannis Panagis.