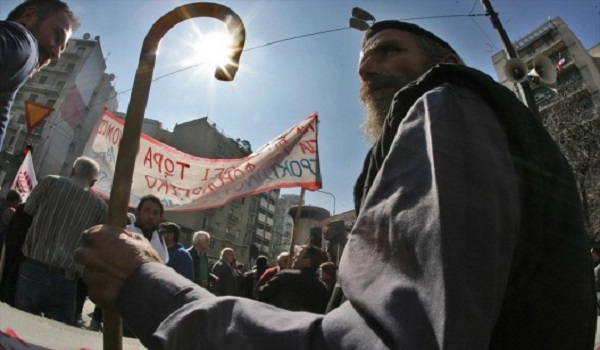 Athens, February 12, 2016/Independent Balkan News Agency
By Olga Mavrou
Farmers gathered today in Athens and in some areas took place some violent episodes. The famers that gathered in front of the ministry of Agriculture were upset when they were told that the Minister is in the Parliament and they started throwing rocks (they smashed about 10 windows), and they attacked the police with their shepherd's crooks and threatened the cops "if you throw us tear gas, we will spray you with pesticide". The police had obviously orders not to be aggressive and so policemen did not react when they were attacked, but retreated. Later they used tear gas.
There were incidents also in the area of Haidari, where farmers destroyed a police squad car.
Until this time (18.00 local time) farmers continue to gather for their big demonstration in Syntagma Square, where they also prepare to camp for 2 days. Along with the farmers, lawyers, physicians and engineers also protest – against  the social security bill and their "unfair taxation".
In the rally participates also the union of ADEDY, that represents the public sector employees.
Meanwhile the blockage of the roads and borders by tractors continues.
Tractors were not allowed to enter Athens.