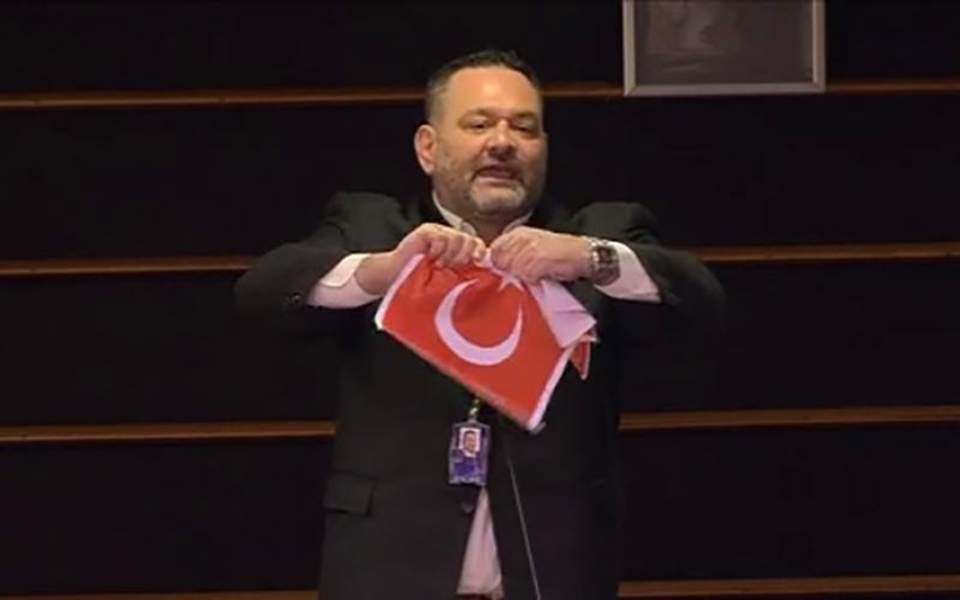 The Greek MEP and former member of the far-right Golden Dawn party Ioannis Lagos made an unprecedented move during the debate in the European Parliament on the humanitarian situation unfolding in the Greek islands, ripping apart the Turkish flag within the Parliament.
In particular, Ioannis Lagos, addressing the situation in the Greek islands as a result of the refugee flows, while also speaking out on the stance Turkey has adopted, stated that "this is the only thing it deserves, and nothing else" proceeding to tear up a photocopy of the Turkish flag that he held in his hands.
Lagos went on to accuse the European Union of ignoring the rights of the Greeks. "Over 65% of Greeks oppose illegal immigration and in the 6 months I've been here I haven't heard you talking about the rights of the Greek people. Do Greeks have no rights?" he wondered, referring to "the human rights of Greek islanders which are atrociously being stepped on".
In response, the chairman of the meeting called for restraint, adding that such behavior would not be tolerated.
A direct reaction came from the Greek Foreign Ministry, which condemned the behavior of Ioannis Lagos in a statement, noting that "Greece condemns in the most direct way any act of infringement of a national emblem, and in this case the national emblem of Turkey. The unacceptable actions by representatives of neo-Nazism drift away from the Greek and European culture and constitute efforts of self-promotion by the under-trial scheme that is Golden Dawn, to which the Greek society showed the door of the Parliament with its vote", with the announcement concluding that "The neo-Nazis represent only themselves".
Turkish Foreign Minister Mevlut Cavusoglu also reacted strongly to the unacceptable action of the Greek MEP. /ibna