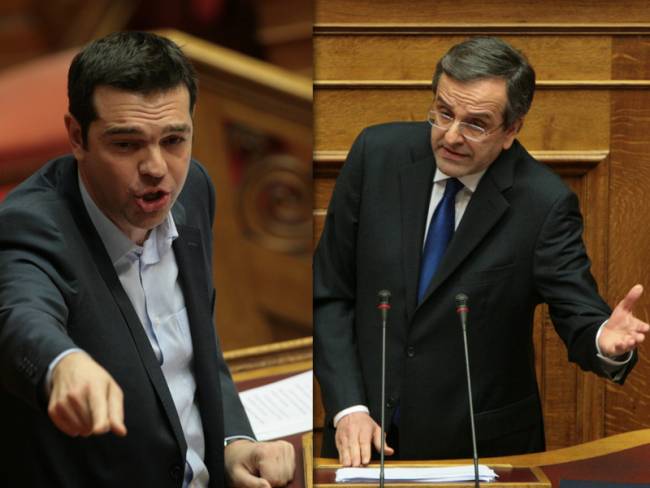 Athens, January 16, 2015/ Independent Balkan News Agency
By Lefteris Yallouros
Less than ten days before a crucial general election in Greece, the two parties that currently lead polls – conservative New Democracy and left-wing SYRIZA – focus their campaigns on the economy and the bailout review by the troika which is currently on hold.
In an interview with German newspaper Frankfurter Allgemeine Zeitung, German chancellor Angeal Merkel said she wishes to see Greece remain in the eurozone as long as the country is committed to agreed reforms. International Monetary Fund chief Chrisitine Lagarde also stated her willingness to cooperate with the next Greek government.
The above statements are an example of change in the rhetoric of many officials and state leaders towards Greece lately that has led to the possibility of the so called Grexit fading away along with the notion that SYRIZA might lead Greece to bankruptcy. These developments will not help New Democracy's campaign which has largely focused on the fear that Alexis Tsipras's demands will be flatly turned down by the EU and IMF, plunging the country into crisis yet again.
Naturally, the two front-runners are now debating which party is better equipped to handle the economy and negotiations with the troika that will come immediately after the election.
SYRIZA candidates – including the party's finance experts – have promised costly measures. Abolishing the unified property tax; measures benefiting low income workers and pensioners; debt relief for a large number of indebted home owners and businesses; to name a few. The main opposition party also says the state will have a say in the running of systemic banks in order to ensure the stability of the banking system and the states' interests.
SYRIZA's flagship policy is debt relief (preferably in the form of a "haircut") without Greece exiting the euro, as leader Alexis Tsipras has stressed. However, the party has not been too clear on how a SYRIZA government (possibly in coalition with a smaller party) will successfully negotiate the end of the current bailout deal with the troika and an agreement for a fresh program that will ensure the Greek economy has funds to run on.
New Democracy maintains the SYRIZA plan is too risky and could lead to an "accidental" default. The conservatives have promised to complete the stalled bailout review and negotiate a new set of reforms along with debt relief with EU allies.
Athens risks running out of cash to make debt repayments in March if SYRIZA comes to power, Finance minister Gikas Hardouvelis told the Financial Times. "I'm raising a flag because there is complacency about raising funds to pay our obligations and that complacency is not warranted," Hardouvelis argued. "The timeline is very pressing and the money isn't there," the Fin Min added.