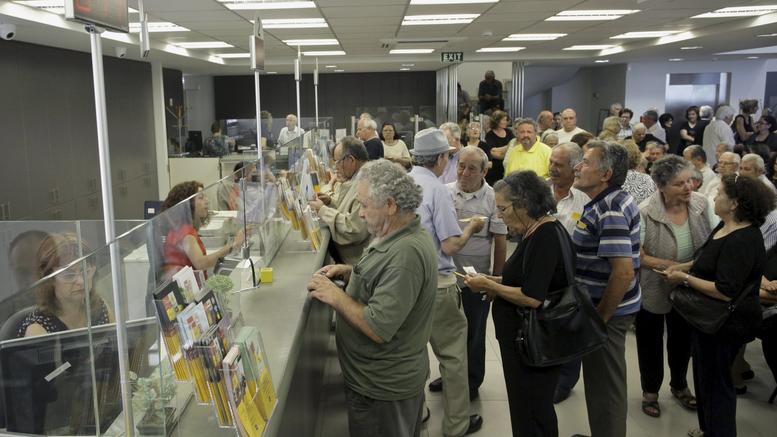 Athens, July 21, 2015/ Independent Balkan News Agency
By Zacharias Petrou
The Greek banking system took one step towards returning to normality, three weeks after a bank holiday and capital controls were imposed.
Greek bank branches opened their doors to customers with some capital controls easing slightly. Customers formed large queues, mostly to access safe deposit boxes. Pensioners also lined up to get cash over the counter.
The system is still subject to capital controls, meaning customers can't withdraw more than €420 per week from their accounts, or transfer money overseas. Furthermore, money transfers abroad are forbidden, new current or savings accounts cannot be opened and partial or full loan repayment is forbidden, amongst other restrictions.
Despite the re-opening of banks, the Athens Stock Exchange is still closed. The stock market will remain closed until a decision has been made by the Finance Ministry for it to open again, the Capital Market Commission said in an announcement. Financial analysts and brokers argue that the Greek stock market is in danger of turning into a "ghost market" when it opens again with shares plummeting and investor's rapidly abandoning it. Especially bank stocks are expected to suffer heavy losses.
Confidence will be very hard to win back and the Greek government must prove it will honor its obligations as well stabilize the economy sooner rather than later. One step in the right direction was made Monday as a maturing debt repayment owed to the ECB was covered along with outstanding bills to the IMF.
The €7.2 billion bridge loan Greece secured last week by its EU partners wall almost entirely used up to make the payments to the IMF and ECB. Avoiding default on obligations to the ECB was particularly important for Greece in order for the country to avoid Grexit – a prospect that cannot be taken off the table until the third ESM-sponsored bailout loan is approved and signed.
The government – and Alexis Tsipras in particular – has a political tightrope to walk this week. He is set to bring more prior actions to parliament on Wednesday which must be pushed through in order for talks to begin on Greece's new bailout loan. Last week 39 Syriza MPs rebelled against the bailout measures and votes from the opposition were needed to see them ratified. If Tsipras loses more MPs on Wednesday he will be under heavy pressure to either resign or call an early election.
With the new bailout deal still not approved, Greece cannot afford to go to a snap election without money from the ESM – sponsored loan. It would mean risking a Grexit as a number of Eurozone countries are now reluctant to propping up Greece.