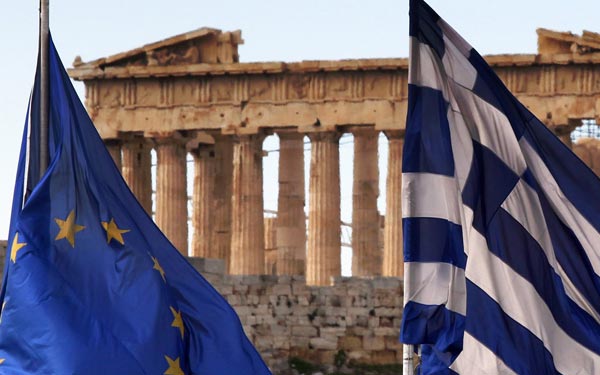 By Lefteris Yallouros – Athens
Good news are coming out of the Greek economy as Hellenic Statistical Authority data indicated Wednesday that the country is closer than ever to the end of a crippling six year recession.
Gross domestic product declined 0.2 percent in the three months through June from the same period last year, its 24th straight contraction, after dropping a revised 1.1 percent in the previous quarter, the Hellenic Statistical Authority (ELSTAT) said.
The contraction is the smallest since the third quarter of 2008 and beats the median estimate of a 0.5 percent drop in a Bloomberg survey.
"We've had a long-term positive trend," said Christian Schulz, senior European economist at Berenberg Bank in London. "Whether the confidence can be strong enough to push Greece back into strong growth just yet is open to question. I think Greece will probably this year still have to rely on a positive tourist season."
Analysts of Greek lender Eurobank said in a weekly report that the country's economy is entering a period of long-term growth. Should Greece's economy continue to produce primary surpluses, convergence with stronger European economies will occur.
Meanwhile, the Greek Finance ministry, central government budget had a 2.3 billion euro primary surplus in the first seven months of the year. The state budget deficit came in at 1.93 billion euros against a target of 3.36 billion.
Alpha Bank analysts predicted Wednesday the Greek primary surplus will exceed 2.9 billion euros at the end of 2014.
Release of 1-billion-euro loan tranche approved
Also Wednesday, the Euro Working Group approved the disbursement of another 1 billion euros in rescue loans to Greece with the money expected to be made available to Athens by Thursday.
The 1 billion euros is the last slice of a tranche of 8.3 billion euros approved at last April's Eurogroup summit in Athens.
Another 1.8 billion euros in outstanding funds — from Greece's second loan agreement with international creditors — remains to be disbursed, most likely in the fall following the troika's next economic review.
Having received financial assistance from the European Financial Stability Facility of 141.8 billion euros, Greece is now closer to receiving the last of its rescue funds, thus making a series of audits carried out by the troika unnecessary.
Observers, however, maintain it is still unknown whether Greece will need additional financial support and therefore a new aid program after 2015 will be necessary.
German newspaper Frankfurter Allgemeine notes "Athens seems to forget that the primary surplus is only one of the prerequisites for further facilitations" hinting that the troika may still be around until 2016.