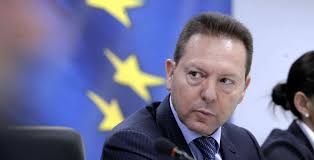 Bank of Greece (BoG) Governor, Yannis Stournaras, sounded optimistic about the prospects of the Greek economy should the review of the bailout program be concluded swiftly, as expected.
Speaking at a conference of businessmen in Thessaloniki, northern Greece, Stournaras said uncertainty surrounding the future of the economy will ease as soon as the 22 May Eurogroup meeting rubber-stamps the conclusion of the ongoing review, paving the way for a multi-billion euro loan tranche disbursement to Athens. As a result, all economic indicators will improve, the BoG Governor said.
Outlining the challenges that lie ahead for the economy, the central banker put non-performing loans at the top of the list, warning that the problem has yet to be addressed.
Stournaras's comments came on the same day that the European Commission revised downward its forecast of Greece's economic growth to 2.1 percent this year, from a previously estimated 2.7 percent, and to 2.5 percent in 2018 from 3.1 percent.
Speaking during a press conference at the EU Commission headquarters in Brussels, European Economic and Financial Affairs Commissioner Pierre Moscovici said that the readjustment was mainly a result of delays in concluding the second bailout program review.
Markets, however, have already began to react positively to the expected conclusion of the latest review of the Greek program that will also lead to debt-relief talks and the disbursement of the next tranche of emergency loans.
The outlook for Greek bonds has improved and the Greek Stock Market has rallied in the last few days while participation in ECB's quantitative-easing program is also considered by experts to be on the cards, should debt relief measures be agreed.
"Once the review is concluded, I strongly believe that we will outperform the Commission's forecasts," government spokesman Dimitris Tzanakopoulos told reporters on Thursday, while adding that there was also progress in debt talks.
Tzanakopoulos also revealed that the government intends to "take advantage of the positive momentum to make a trial market exit as soon as possible"./IBNA