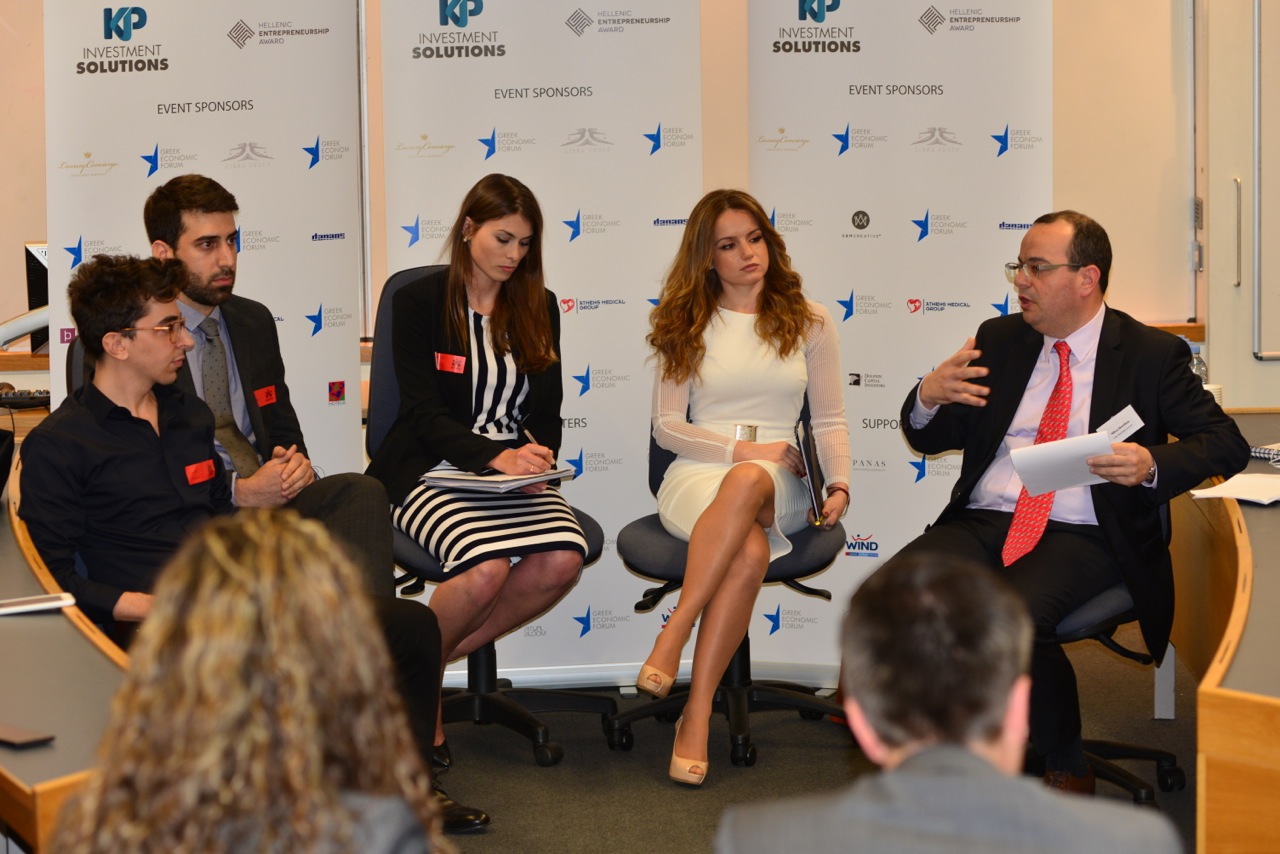 London, April 14, 2016/Independent Balkan News Agency
By Thanasis Gavos
An in-depth examination and exchange of views regarding the attractiveness of Greece for investors, with an eye on how to improve deal-flow circumstances, was organised in London's CASS Business School by the Greek Economic Forum.
Solicitor Dr George Kratsas, Associate at Ropes and Gray in London, examined what investors look at from a legal standpoint before entering a market. The first thing in this regard is the legal risk, i.e. the risk of a third party taking legal action against them and/or how fixed the laws in a country are. Also important to investors are the rules on foreign investments, in Greece's case more or less covered by EU law; and finally the efficiency of the legal system, the reliability of the judiciary, a field in which Greece unfortunately has lots of room to improve, as Dr Kratsas and other participants agreed.
The relevant stats presented are staggering. According to Dr Kratsas the average time for a contractual dispute to be resolved in the Greek courts of law is just over four years and if a case reaches the Supreme Court then it's eight to ten years for it to be settled.  He lamented the absence of alternative dispute resolution mechanisms, as well as the instability of the tax framework, with its frequent changes making it "impossible" for potential investors to estimate their business costs and benefits in the long run. In terms of suggestions for improving the legal standards, he said a simplified system with simplified procedures is required.
Wealth management expert Rosina Kousta, Director at Signia Wealth Ltd, recognised that things in Greece could be much better, nevertheless hit an optimistic note saying that the country presents opportunities for investors, especially in sectors such as tourism, real estate and shipping – sectors in which many of her clients are demonstrating a genuine interest. She did however note that structural reforms in Greece must be carried through in order to create growth potential and new jobs and that at the same time the still pending review of Greece's reform programme agreed with the creditors poses a threat to the economy's recovery. "The only way is up," said a defiant Ms Kousta, praising the "guts" and the will of the Greek people.
Property investor Manos Spanakis gave a brief presentation of how the London property market works in order to draw comparisons and suggest ways forward for a similar plan in Greece. He spoke of the need for tax stability, uncomplicated transactions, a favourable banking system, regulated estate agents and more professional marketing. "The sun and the sea, among else, make Greece a prime spot in Europe," said Mr Spanakis. He also pointed to an underlying problem facing the country in terms of attracting investors, which is lack of trust to the political system.
Professor of Shipping Risk Management at CASS Business School Nikos Nomikos added that what is underpinning every discussion about recovery and investment in Greece is the "imperative" need for reforms to be implemented. Professor Nomikos highlighted the importance of the shipping sector for the Greek economy, a sector that was not greatly affected by the crisis. The aggregate value of ships owned by Greeks is 100bn USD, said Prof. Nomikos, a wealth amassed by "shrewd operators" putting the country's geography and tradition to good use. Addressed the contentious issue of ship-owners tax-free status in Greece, he commented that in this case state intervention promoted a crucial sector's growth.
The Greek Economic Forum, now in its fourth year, aims to generate policy ideas and interest in Greece's investment opportunities.