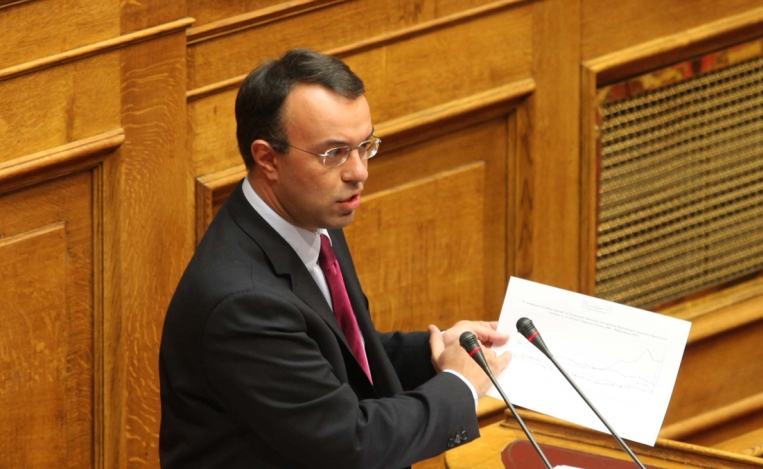 By Lefteris Yallouros – Athens
Negotiations between Greek government and troika officials continued in Athens Monday as the draft 2015 budget was tabled in Parliament.
"The country is entering into a long period of sustainable growth rate and primary budget surpluses, which will boost employment, cut unemployment and improve living standards for all citizens,» Deputy Finance Minister Christos Staikouras said upon submitting the draft to the House.
The draft budget projects the economy will grow 0.6 percent this year and 2.9 percent in 2015. Greece will report a primary budget surplus of 2 percent of national output this year and a budget surplus excluding interest payments of 2.9 percent of GDP next year. Unemployment is expected to fall to 22.5 percent in 2015 from 24.5 percent this year, while debt is expected to fall to 168 percent of GDP from 175 percent this year, according to the draft budget.
The draft submitted also includes a 30 percent cut to both a tax on heating oil and a special "solidarity" tax. A lowered 13 percent VAT rate for restaurants will be maintained. Also, wages for the police and armed forces are set to rise.
The government has also promised an increase in the number of installments in which Greeks can pay off tax debts to the state.
However, Greece's budget still requires the approval of the troika whose representatives have been in Athens since last week inspecting progress in the country's adjustment program. As a result changes in the final budget text are expected. With growth figures reported to have been inflated by the French and Italian authorities, the troika will thoroughly scrutinize all Greek provisions.
Tax cuts are expected to get the go-ahead from the country's creditors, however, no more concessions should be allowed in this area despite the Athens Chamber of Commerce & Industry calling the Prime Minister on Monday to reduce tax burdens on businesses even further.
As negotiations between the government and troika officials continued in Athens on Monday mainly around the issues of national insurance, employment relations, the country's privatization program and non performing loans, Greece's lenders are expected to pile on the pressure this week.
The final meetings between troika and government officials are scheduled for Wednesday evening, with the tripartite leaving Athens on Thursday in order to return after the publication of the bank stress test results on the 26th of October.
Finance Minister Gikas Hardouvelis will head to Washington for the IMF's Annual Summit planned for the 10th to 12th of October where he is also to meet with IMF director Christine Lagarde to discuss debt relief.