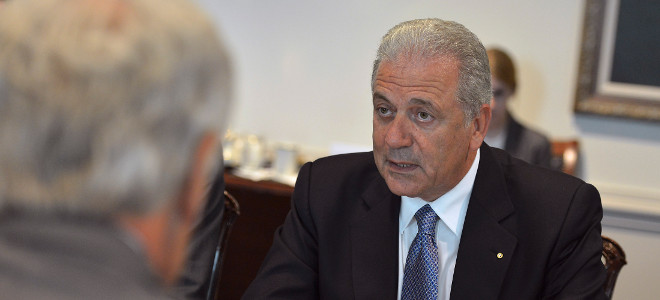 By Spiros Sideris – Athens
Defence Minister Dimitris Avramopoulos will travel to the United States today in response to the call of the American Secretary of Defense Chuck Hagel.
During his visit, Avramopoulos will meet at the Pentagon with his American counterpart, on Thursday, August 21 at 20:45 EEST.
According to sources cited by the ANA-MPA, during the meeting between the two ministers, among other issues, there is expected to be a discussion relating to the participation of the Armed Forces in peacekeeping missions on the basis of the acknowledged stabilizing role played by Greece in the wider region.
According to the same information, it is possible that discussion will shift to issues relating to the improvement of bilateral cooperation between Greece-US in the defence and military sector.
It is noted that last night the Greek Defence Minister received in his office the Ambassador of the USA in Greece, David D. Pearce.
According to the relevant press release, the two men discussed issues of mutual strategic and defence related interest in the region, as well as the issues to be discussed at the meeting between the Greek Defence Minister and his U.S. counterpart Chuck Hagel.