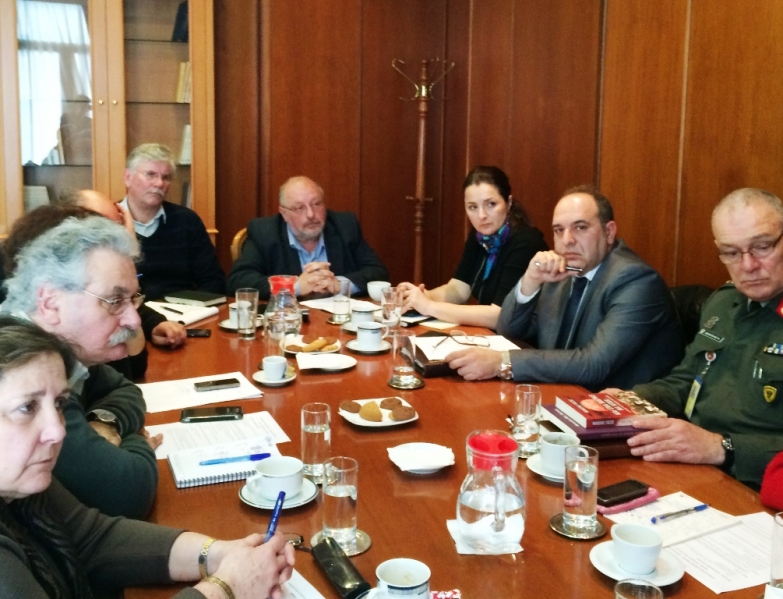 Athens, March 11, 2015/ Independent Balkan News Agency
By Spiros Sideris
On the initiative of Deputy Minister of Defence Kostas Ysihos was held Monday a meeting at the ministry, involving union representatives and state officials, with the aim "to promote reclaiming german debts and reparations in conjunction with the restoration of historical memory and truth".
As is noted in the announcement, at the core of the designed initiatives 'is the estimate that, in present circumstances the national historical memory is an integral component of that defence, both as a concept and as content".
According to the same statement, within the initiatives that will be promoted are included "diverse events in Athens and other Greek regions that have suffered the Nazi atrocities, but also in places where the National Resistance acted continuing the heroic resistance of the Greek Army towards the Italian and German invasion troops".
The Ministry of Defence points out that the promotion of the target for the claim of German debt to Greece is directly connected with a parallel campaign to restore the historical memory and Nazi-fascism armor of new generation in both the schools and the Armed Forces. As a first step to this end, there is consideration to publish and distribute a special magazine to schools and camps.
"It was stressed that the Greek claims towards Germany are not just a bilateral dispute, but an international issue. In this context, we examined the potential for having an international conference on German debt and the activation of the Greeks abroad for this purpose. There was also a special discussion on the request of the return of archaeological treasures seized by German occupation forces", noted the statement.
Among the events planned is to hold an event at the War Museum, exhibitions to central stations of the Athens metro, event at the MoD for officers of the Armed Forces and the staff of the Ministry of Defence, and events in the school of Cadets and Air Force Academy. There will also be participating with a stand that will promote the greek claims, in the events that will take place in Moscow on the big celebration for the 70 years of the anti-fascist victory, which Alexis Tsipras will be attending.
To the enhancement of initiatives are expected to contribute, apart from the Ministry of Defence, the ministries of Foreign Affairs, Education and Culture, while there will be a contribution from the Ministry of Finance as well.