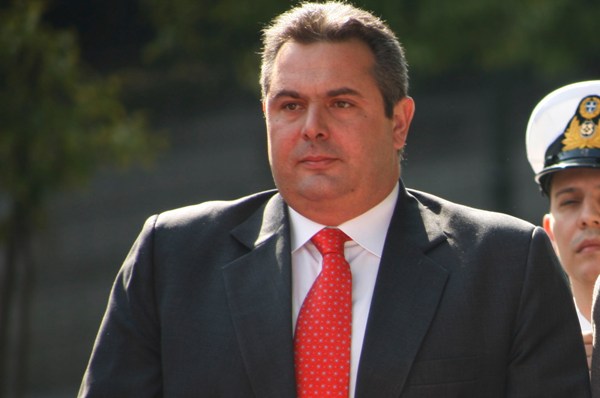 Athens, April 16, 2015/ Independent Balkan News Agency
By Spiros Sideris
The prospects of the development of bilateral military relations, but also improving international cooperation before the threat of Islamist terrorism, discussed the Defence Ministers of Greece and Russia Panos Kammenos and Sergei Shoigu, who met Tuesday afternoon in Moscow.
"Greece and Russia are two countries with historical and religious ties and our meeting confirmed the friendly relations between the two countries", Kammenos said after the private meeting with his Russian counterpart, which was held without the presence of a translator and lasted about 45 minutes.
The meeting between the two men had preceded a half-hour meeting with participation of the two delegations.
"Defence cooperation programs, which already exist will continue, there will be maintenance of existing programs and we exchanged views on the great threat that exists, both for Russia and NATO and refers to the Islamic fundamentalism in the Middle East and North Africa", the Greek DM noted.
Kammenos is invited to the 4th international conference in Moscow on global security and tomorrow will speak as part of its works.
"We will seize this opportunity to update our counterparts in NATO on what took place", Kammenos said, being the only minister of a NATO country, who accepted the invitation of his Russian counterpart.
"The Greek people in every difficult moment resorted to the help of Russia", noted the Greek minister at the beginning of the meeting with his Russian counterpart, reminding that Greece does not forget the Russian support to national issues, such as the invasion and occupation of Cyprus and especially the Russian veto over the Cyprus matter.
"The new Greek government seeks cooperation with Russia in all areas. Recent agreements between Prime Minister Mr. Tsipras and President Putin open new perspectives in this cooperation", Kammenos said, reiterating that Greece opposes the EU sanctions against Russia, a position we firmly support and one which we have expressed to NATO as well".
The Greek Defence Minister even noted that "although a small country, we are making every effort to cancel these sanctions", for which he had previously expressed his regret.
Welcoming the greek minister, Shoigu stated that "the military and defence-technical cooperation between Greece and Russia has deep roots" and expressed his hope that it will continue.
"I think we can continue this glorious history of our cooperation, both at sea and on land", said the close and longtime associate of Vladimir Putin, referring, according to estimates of analysts, not only to recent but also the eternal cooperation between the two peoples.