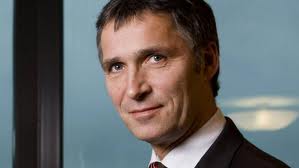 By Spiros Sideris – Athens
Greek Defence Minister, Dimitris Avramopoulos met on Thursday with NATO Secretary General Jens Stoltenberg. During the meeting the two men discussed issues relating to the security challenges the international community is faced with, the future of NATO, the prospect of Euro-Atlantic relations and the geopolitical developments in the wider region.
In his statement Avramopoulos stressed the need for a "constructive and sincere support of all member-states of NATO", to the new general secretary of the Alliance, "in order for him to cope successfully with his difficult but crucial mission".
"I reminded Mr. Stoltemperg" he added, "that Greece throughout its course within NATO, has contributed and fully honored its allied obligations, always struggling with its allies for the defence of peace, freedom, independence, human rights and democracy wherever needed".
"Mr. Stoltemperg" he continued," had the opportunity to see for himself the combat effectiveness and firepower of the Greek Armed Forces. Our country is very proud of the high level of preparedness and militancy of all three branches of the Armed Forces, which ranks it among the states with the largest and most powerful military deterrent force in Europe and perhaps the world", he repeated.
Avramopoulos assured the new Secretary General of NATO that as Commissioner of Immigration and Internal Affairs of the European Commission, "I will work constructively and in good will, in order for the synergies between NATO and EU to converge even more, for the benefit of the shared vision of the two organizations".