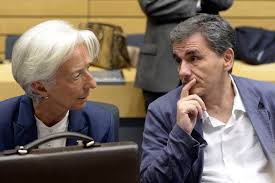 Athens, October 12, 2015/ Independent Balkan News Agency
By Zacharias Petrou
Greek Finance Minister Euclid Tsakalotos met on Sunday with International Monetary Fund (IMF) Managing Director Christine Lagarde on the sidelines of the Annual Meeting of the IMF and World Bank in Lima, Peru.
Tsakalotos, pointed out that Christine Lagarde supports the Greek government's effort to complete the first review of its bailout agreement succesfully so that it can move on to the recapitalization of the banking system before 1 Jan 2016.
The Greek minister also stressed that a substantial debate on adressing the issue of Greece's sovereign debt will begin imminently so that the right circumstances can be created for the country to return to grown and exit the crisis after more than six years.
Earlier, the head of the IMF's European department, Poul Thomsen said that Greece cannot deal with its public debt through reforms alone and needs a significant extension of grace periods and longer maturities from its European creditors.
"We think that Greek debt has become highly unsustainable," Poul Thomsen told a news conference in Lima. "We think that Greece cannot deal with its debt without debt relief. Greece cannot deal with debt just through reforms and adjustment," he said.
The IMF is supportive of Greece's desire to reach a deal with its creditors for debt relief. However, the German government primarily and European institutions and officials have rejected any idea of a nominal haircut and have resisted opening talks on debt restructuring before Greece gets its economy on track.
Thomsen added that the discussion on how to provide debt relief to Greece has shifted from a nominal haircut on the stock of its debt to capping gross financing needs.
"We have expressed our worries over the sustainability of the debt; an 'element' of debt relief would be needed," European Central Bank president Mario Draghi said in an interview with Sunday's Kathimerini.
He underlined that Greece will return to growth course only if it implements all structural changes agreed and sent a message of "hope and determination."