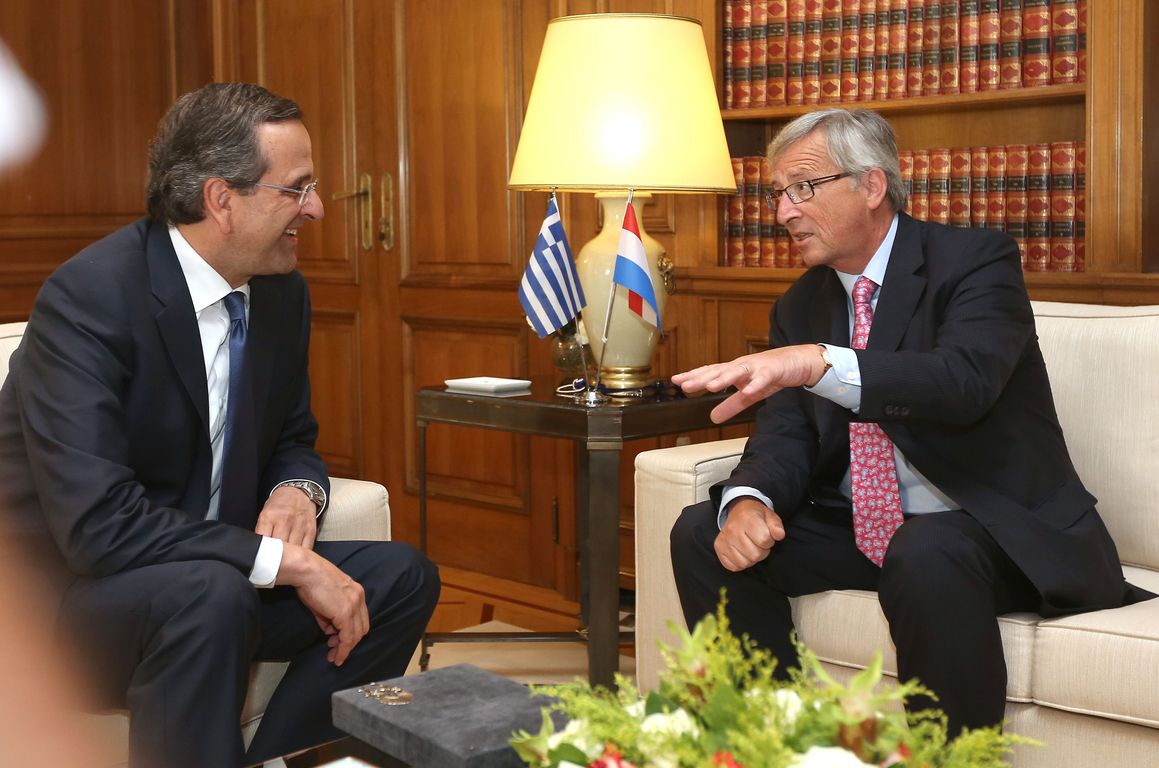 By Lefteris Yallouros – Athens
Incoming European Commission president Jean-Claude Juncker has ruled out a "haircut" of Greece's debt.
Visiting Athens on his first trip since winning the election for Europe's highest office, Juncker urged Athens to continue with economic reform.
In a very warm meeting with Greek Prime Minister Antonis Samaras, Juncker assured Athens he would look at the debt issue after taking office in November but revealed nothing on how eurozone countries plan to deal with the issue exactly.
"We are not at the end of the crisis. I just want to emphasize that – we need to continue wanting to save money, every government needs this, not just the ones in the south of Europe," he stressed.
Juncker was also coy on his choices for the next European Commission. Samaras and Juncker had lunch with Defense Minister Dimitris Avramopoulos, who will be Greece's next Commissioner. Greece is pushing for the immigration portfolio and it appears Juncker and Samaras may have reached an understanding during their talks on Monday. "You will not be disappointed" Juncker told reporters during a joint press conference with Samaras.
"Greece's positions have been included in Juncker's program and in the strategic priorities for the next five years," Antonis Samaras said. "I assume that when Mr Juncker takes his decision, he will decide on a portfolio that touches on these interests" the Greek premier added.
Juncker's visit to Athens is his first to a European Union member state in his capacity as Commission president-elect. Choosing to visit Athens is considered symbolic in that it is seen as a "thank you" to the Greek prime minister for his strong support of Juncker's European Commission presidency campaign.
Juncker praised Greek efforts to improve public finances, and insisted that he played a key role in keeping the country in the eurozone. "I really fought like a lion, I would say," Juncker said. "There was a great battle to counter those who wanted to remove Greece from the euro."
However, the incoming Commission president made sure he reminded Athens to deliver on its reform program. The Greek government, on the other hand, could expect more from Juncker as Commission president than it did from Manuel Baroso on issues such as debt relief, unemployment, social welfare and immigration.