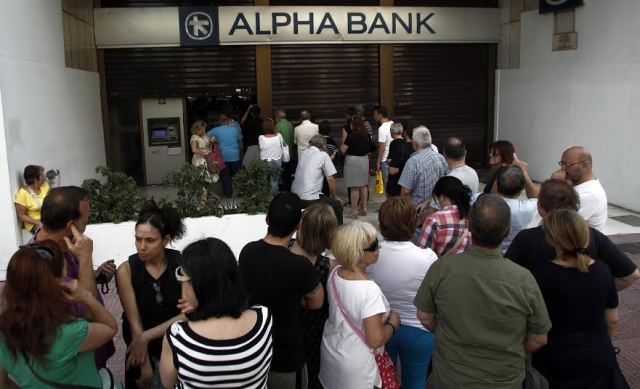 Skopje, 30 June 2015/Independent Balkan News Agency
By Naser Pajaziti
There have been growing concerns in FYROM about the Greek crisis, but bank authorities say that this  crisis cannot threaten the banking sector of the country. But there are concerns that this situation may infect the country through commerce.
The country's central bank has taken several measures as of today and these measures apply for banks and companies. The central bank  ordered all banks in FYROM to withdraw the funds that they have in Greek banks or their branches. A part of the banks that operate in the country have deposits in branches of Greek banks in Romania and Malta, which they must withdraw. Companies are also ordered not to make payments to Greek bank's accounts.
"Banks and companies cannot make payments or invest in businesses  in Greece. Central bank will monitor, but banks too must be cautious to control every transaction toward Greece at a value greater than 10 thousand Euros", declared the governor of the Central Bank, Dimitar Bogov.
Bogov: Banking system is safe
Governor Bogov has made it clear that the national banking system is safe and that there's no room for concern. He said that there may be implications in terms of trade. According to him, banks are functioning in a normal way, including Greek owned ones.
"In the recent years, we have taken a number of measures to preserve the banking stability in the country. As of today, we have another measure in place which doesn't allow the transfer of capitals from our country to Greece. Although we are not expecting such attempts to take place, we wanted to make sure. Cooperation between companies of both countries will be normal and without problems. The only obstacle now is that Macedonian companies will not be able to carry out payments and investments in Greece", declared the governor of the central bank in FYROM.
Last year, 3,5 million Euros worth of payments between partner companies from both countries have been transferred to Greece. Meanwhile, as of the start of the year, the volume of payments to Greece amounts to 300 thousand Euros.
The Central Bank in Skopje said that in case of the worst scenario of Greece going bankrupt, this will have no impact in the banking sector in the country. However, the central bank is expected a solution to be given to the Greek crisis, while according to it, FYROM will be open for every Greek investor in the country. Greek investments in FYROM amount to 433 million Euros and they arrived in the country in 2007 and 2008.
Greek owned Stopanska Banka
The Stopanska Banka AD in Skopje is a Greek owned bank operating in FYROM. Its management declared yesterday that its conducting business as usual and that the deposits are safe.
"We're following the measures imposed by the central bank. We are conducting business as usual and there is no room for concern, because all deposits and capitals are safe", Stopanska Banka declared.
This bank is considered as one of the largest banks in the country. Other banks too have said that they're following the recommendations of the Central Bank and according to them, there must be no cause for concern.  /ibna/