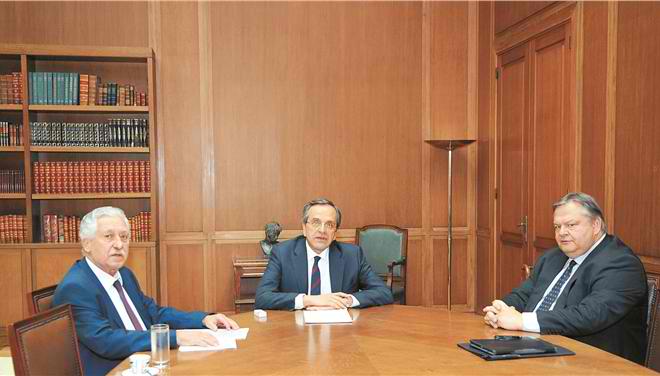 By Lefteris Yallouros -Athens
Greece's coalition government had to rely on a court overruling the Prime Minister's decision to immediately shut down public broadcaster ERT, in order to find a way out of a political crisis over the closure, thus avoiding an early general election.
The court issued a preliminary ruling saying ERT must operate temporarily, until a successor is introduced. Employees will also stay on until a final decision is reached by the court in September.
Τhe leaders of Greece's coalition government held a crisis meeting Monday evening to discuss the Prime Minister's shock-decision to close Greece's state broadcaster ERT.
Coming into the meeting, Samaras insisted that ERT must be replaced with a new smaller broadcaster, while Venizelos and Kouvelis argued that the state broadcaster must be kept running.
The Greek premier reportedly offered to reshuffle the cabinet at the end of June and review the government's policy agreement as well as to allow ERT to restart with 'temporary management'. Under his plan, a new minister would be appointed who would be responsible for running ERT until its successor, NERIT, is operational this summer.
Reports suggest Fotis Kouvelis and Evangelos Venizelos will have a much larger say in the government after the reshuffle and possible take up deputy-Prime Ministerial roles.
After the meeting, PASOK leader Evangelos Venizelos revealed the trio will hold fresh talks on Wednesday. He also said Samaras should now interpret the Council of State decision correctly.
Council of State
The Council of State, the country's top court, announced its ruling on the decision to shut the Hellenic Broadcasting Corporation while the heads of the three parties in Greece's coalition government held crisis talks behind closed doors Monday evening.
The court threw the government a lifeline by ruling ERT could be kept open until the country's new state broadcaster is up and running.
The dramatic ruling leaves a great deal of scope for confusion. The ruling appears to vindicate Samaras's stance but also allows for ERT's reopening as his coalition partners had demanded.
Government officials stressed the court has merely blocked the 'blackout' at ERT, not the main decision that the state broadcaster must be closed.
However, speaking to reporters after the coalition government leaders' crisis meeting, DIMAR leader Fotis Kouvelis said the Prime Minister should re-authorize ERT to operate immediately with its current structure.
Tsipras calls for early election
Meanwhile, main opposition, left-wing SYRIZA party held a rally in Syntagma Square Monday night. Leader Alexis Tsipras gave a fiery speech in which he said "the political time of this government is over. Democracy is going to return to this country (…) Mr Samaras with your decision to close public TV you are finished. Whether the three of you come to an agreement tonight or not you are finished. Goodnight Mr Samaras".