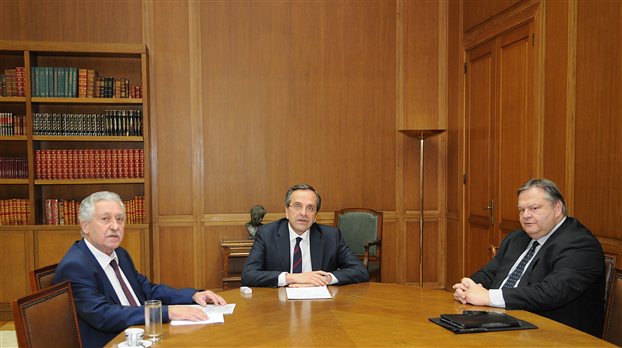 By Lefteris Yallouros – Athens
Greece's coalition government leaders held fresh crunch talks Wednesday night in Athens in search of a compromise over the closure of state broadcaster ERT. Leaders agreed to meet again Thursday night; however, the crisis appears to have been defused.
The threat of an early general election loomed over the country as Prime Minister Antonis Samaras presented Socialist PASOK leader, Evangelos Venizelos and Democratic Left (DIMAR) chief, Fotis Kouvelis, his proposals over how the national broadcaster would operate short-term until a revamped state TV and radio network is set up.
The Prime Minister didn't make a statement after the three and a half hour meeting. However, talks reportedly proceeded in conciliatory mood. The trio is now expected to reach a broader agreement which will bring about a cabinet reshuffle, a different modus operandi for the coalition as well as an interim state-TV program to replace ERT until a new entity is launched in a few months.
Speaking to reporters after the meeting, E. Venizelos said there were many complicated issues to discuss and that talks were ongoing in order for state-TV to operate again, in compliance with a high court decision this week. The PASOK leader stressed an important part of discussions focused on how the coalition government will operate in future; hinting that a cabinet reshuffle and review of the government's policy agreement will be part of the bargain.
DIMAR leader Fotis Kouvelis also stressed the government must improve coordination and re-determine the policy agreement between the tri-partite coalition. Democratic Left (DIMAR) officials said "the crisis was averted for tonight."
Meanwhile, media unions Wednesday filed a lawsuit against Greece's finance and media ministers, accusing them of violating the high court ruling.
Greece's two largest labor unions staged a protest rally outside ERT headquarters, still occupied by laid off ERT employees who continue unauthorized broadcasts via internet for a ninth day.
"There can be no compromise with the barbarism of these layoffs or the screens going blank," main opposition Radical Left Coalition (SYRIZA) leader Alexis Tsipras said. "Whatever is decided tonight, ERT will stay open," Mr. Tsipras affirmed.
ERT CRISIS WEAKENS COALITION
There is no doubt the ERT crisis has damaged relations between Samaras and his coalition partners. Analysts point out the government has many thorny issues to resolve in order to follow the troika-sponsored adjustment program which are bound to put further strain on the coalition.
Troika debt monitors suspended their inspection in Athens "to allow completion of technical work" and will resume at the end of the month, a statement said Wednesday.