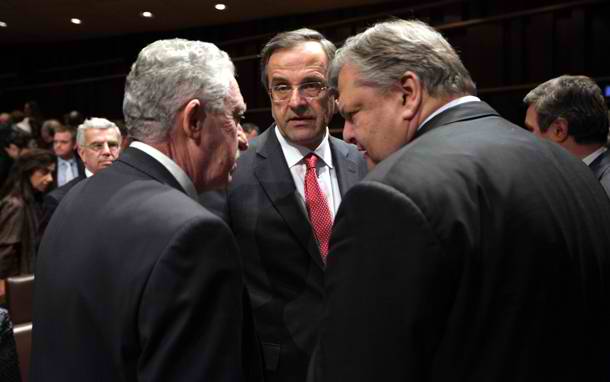 By Lefteris Yallouros – Athens
Greece went through a political roller-coaster ride Thursday as talks of an early general election threw the country deeper into crisis.
The determination of Prime Minister Antonis Samaras to shut down national broadcaster ERT, despite the disagreement of his coalition government's junior partners, brought about a dangerous political deadlock.
Nearly 15.000 people gathered outside ERT headquarters Thursday morning to protest against the shutdown. Workers unions were on strike, public transport came to halt and journalists continued a 48-hour rolling strike also.
The Athens Stock Market showed signs of a full scale crash Thursday morning and Greece's Government Bond Yield for 10 Year Notes edged higher, proving Greek politics had again started to send shockwaves through the market.
However, the government meltdown was averted as the Prime Minister booked a meeting with partners Kouvelis and Venizelos for Monday evening to discuss the ERT issue.
Samaras's decision to meet with his junior coalition partners was interpreted as an attempt to prevent his administration being dragged deeper into crisis. The stock market quickly rallied and closed with 3.4 pct gains. The Government Bond Yield also fell back below 10 pct.
A compromise between Samaras, Venizelos and Kouvelis now seems likely, though the Prime Minister does not intend to back down from closing ERT and re-launching a smaller, more efficient entity.
Reports in Greece suggest Samaras is willing to compromise and switch on the network's channels until the new organization is introduced late August.
Both junior partners welcomed the meeting. Venizelos said: "The country doesn't need elections, they would be a colossal mistake, but PASOK is not afraid of them….We support a radical restructuring of ERT, but not with blacked-out screens".
Socialist PASOK and Democratic Left DIMAR will need to demonstrate to their supporters that they are not overshadowed by the conservatives and constantly overruled by the Prime Minister's initiative.
Government spokesman Simos Kedikoglou was reassuring stating the coalition partners will find common ground on the landscape of the new national broadcast being set up to replace ERT by August.