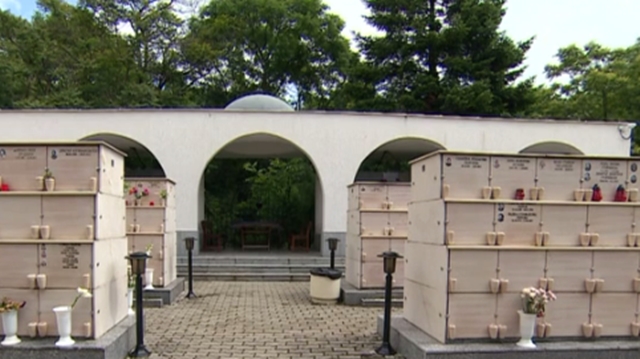 Athens, June 10, 2016/Independent Balkan News Agency
By Clive Leviev-Sawyer of The Sofia Globe
Every morning at the crematorium in Bulgaria's capital city Sofia, there is a long queue of hearses with Greek registration plates.
This has been going on for years, given that Greeks who want their dead cremated have faced official opposition because of the Greek Orthodox Church's doctrinal refusal to permit cremation, Bulgarian local television station bTV said on June 10.
However, a softening of the position by the Greek church could see what has proved a lucrative source of funds for Sofia crematorium, lessen within a few months.
The number of Greeks whose remains have been cremated in Bulgaria runs into the thousands, the report said.
A Greek from Thessaloniki, at Sofia cemetery having brought a close friend who died, told bTV: "In Greece, the church does not accept cremation of the deceased and turning them into dust. The Orthodox Church wants the deceased laid in the ground. That's why we're here."
Bulgarian Orthodox Church priest Vassil Kotsev said that Greece was the only country where Orthodox Christianity was the state religion. The opinion of all Orthodox churches, he said, was that it was appropriate for the dead to be buried, not disposed of by any other means.
But although Orthodox Christianity opposes cremation, the acute lack of places in the cemeteries in the largest cities made cremation the only option, the report said.
The head of cremation at the cemetery, Dimo Petrov, said that in large cities, there were more cremations, mainly because of running out of space in cemeteries.
Kotsev said that he recognised that there was a need for having to disregard the rules of the church in some respects, given that the lack of places to bury the dead had become an urban problem.
The report said that because of the influx of Greeks, the increasing number of Bulgarians who specified that after their death, they wanted to be cremated, sometimes had their remains waiting for days before being cremated.
Petrov said that the service cost 1089 leva (about 557 euro), with the ashes returned to the care of those close to the deceased.
Greek funeral companies had developed the service of transporting the dead to Bulgaria. No employee of the Greek agencies agreed to discuss the business, the report said.
Sofia crematorium is the only fully-functioning crematorium in Bulgaria. Generating millions of leva a year, it is 80 per cent privately-owned, having formerly been fully-owned by Sofia municipality.
Petrov said that the partial privatisation had taken place in 2001, when Stefan Sofiyanski was mayor, and Italian business people were invited to become shareholders.
However, the report pointed out, the business of Sofia crematorium may soon become less lucrative, as the Greek Orthodox Church had accepted the need to back down from the canon. Within two or three months, the Greek crematorium was expected to be ready.