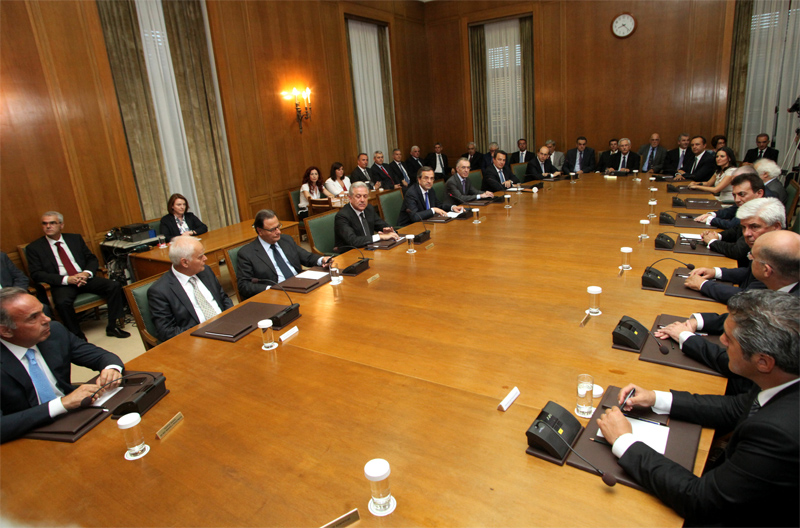 By Lefteris Yallouros – Athens
Greek Prime Minister Antonis Samaras reshuffled his cabinet on Monday following a meeting with Socialist PASOK leader Evangelos Venizelos. The reshuffle comes two days after the Democratic Left party (DIMAR) quit the government in protest at the abrupt closure of the country's state broadcaster, leaving the governing coalition with two parties, conservative New Democracy and Socialist PASOK.
PASOK leader Evangelos Venizelos assumed the posts of deputy prime minister and foreign minister while Finance Minister Yannis Stournaras kept his job in the cabinet reshuffle.
The new cabinet, announced by government spokesman Simos Kedikoglou Monday night, includes many top PASOK officials as Samaras and Venizelos agreed to share power on a brand new basis. The duo ironed out a new agreement which outlines the government's policy goals and establishes a fresh modus operandi which aims at better government coordination.
The new government will have its work cut out with the troika expected in Athens imminently to inspect the implementation of the country's fiscal adjustment program. Venizelos has reportedly pushed for the rejection of new austerity measures and for the troika to be pressed to accept gradual tax cuts. The revamped coalition agreement is expected to be released in coming days.
Of the 41 members of the new cabinet, eleven come from PASOK. Outgoing foreign minister Dimitris Avramopoulos moved to the Ministry of Defence. Most significant changes include PASOK deputy Michalis Chrysochoidis taking over the helm of the new Infrastructure Ministry which broke off from the Development Ministry. Another former PASOK minister, Yannis Maniatis, was handed the Environment Ministry while Pantelis Kapsis, chosen by Venizelos, will be a deputy minister in charge of re-shaping the closed state broadcaster ERT.
Conservative Kyriakos Mitsotakis was put in charge of the ministry of administrative reform, which has to meet a controversial target of 15,000 public sector firings by the end of next year.
Cabinet members will be sworn in Tuesday at noon.
Meanwhile, main opposition Coalition of the Radical Left was quick to criticize the new cabinet. In an announcement the party said changes in personnel will do nothing to revive a faltering government whose new cabinet appears especially made to implement unpopular measures dictated by the country's lenders.