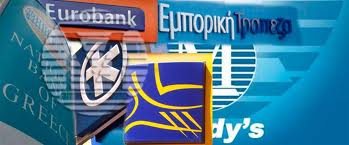 By Lefteris Yallouros – Athens
Financial results of Greece's largest banks are showing an improvement in their fundamentals and performance over the last year as their restructuring efforts pay off.
The National Bank of Greece reported on Wednesday a nine-month profit for the first nine months of the year.
The group posted net earnings of 262 million euros from a loss of EUR 2.45 billion in the same period last year. NBG said provisions for bad loans fell by 34 percent year-on-year to EUR 1.24 billion.
Meanwhile, Alpha Bank, Greece's fourth-largest lender by assets, posted a narrower loss for the first nine months of the year on Thursday.
Alpha Bank reported a net loss of EUR 102 million compared to a loss of EUR 711.2 million in same period last year. Loan-loss provisions rose 26 percent to 1.47 billion euros from 1.17 billion euros in same period last year.
The restructuring of the Greek banking system appears to be paying off but the effort is far from over. With stress tests by the ECB coming up, the cost-cutting drive is progressing.
On Monday NBG agreed to sell a majority stake in its real estate arm Pangaia to private equity firm Invel Real Estate in a EUR 653 million deal. The bank is also expecting to sell the Asteras Vouliagmenis hotel complex which will bring in around EUR 300 million more.
Alpha Bank and Piraeus Bank are also said to be offloading assets although no deals are final yet. Alpha is said to have received offers from investors for the Athens Hilton Hotel with sources saying it is no hurry to accept any of them.
Meanwhile Eurobank, which was rescued by the HFSF after it failed to attract private investors, is on course to raise EUR 2 billion in a new share sale in a first step towards privatization.
All four of the country's systemic banks have also planned voluntary redundancies for staff with approximately 6.000 employees expected to exit the sector by the end of the year to save money.