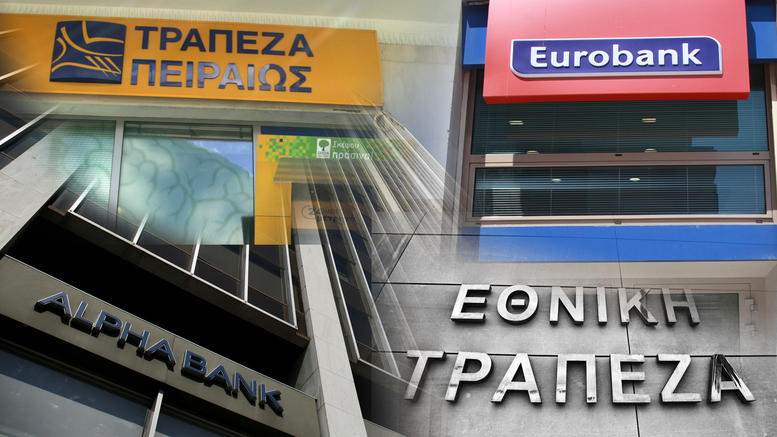 The COVID-19 outbreak has significantly impacted on the prospects of Greece's banking system, JP Morgan analysts said in a note.
The ATHEX banking index has slumped 61 percent since the start of the year, significantly more than peers in the Eurozone and Central European, Middle East and Africa (CEEMEA).
The banking system's recovery and positive momentum has been interrupted, as non-performing exposures (NPEs) are expected to grow along with risk and borrowing costs.
Nevertheless, analysts point out, a comeback for the sector is still possible next year, depending on how the Greek economy reacts to the crisis on the whole. JP Morgan has cut price targets for Greece's four systemic lenders.
Banking sources said lenders will continue with their "Hercules Plan" aiming to massively sell non-performing loans (NPLs) through securitization. However, observers believe the plan may fail due to the coronavirus impact on Greece's economy and especially the crucial tourism industry.
The note followed a successful issue of a seven-year bond on Wednesday. The 2 billion euros raised will be used to fund the coronavirus response. . Offers for the 7-year paper came to 6.3 billion euros, with an interest rate at 2.02 percent.
Greece's government has announced plans to offset the COVID-19 economic shock though a post-crisis stimulus package for business, aiming to protect jobs and contain an estimated 10 percent drop of GDP.
The country has so far managed to contain the coronavirus infection rate in the country and is already making plans for a return to normality, albeit gradually.
Development & Investment Minister Adonis Georgiadis said the reopening of businesses will go ahead in the reverse order in which they closed.
Speaking to ANT1 TV on Thursday, the minister said: "The only thing I can say at this moment in time is that the lifting of restrictive measures will happen in reverse order […] We are on a very good path and in mid-May, in the best case scenario, the reversal [of measures] could begin. Nobody finds pleasure in these measures but they were necessary after the storm that came our way"./ibna