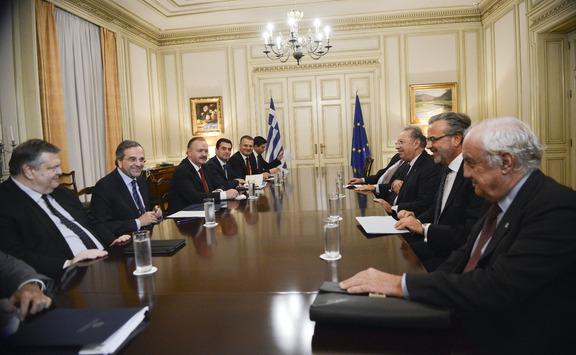 By Lefteris Yallouros – Athens
Greece's top bankers held a meeting with Prime Minister Antonis Samaras and deputy PM Evangelos Venizelos on Tuesday.
Finance Minister Gikas Hardouvelis, Alternate Finance Minsiter Christos Staikouras, Development Minister Costas Skrekas and bank representatives Michalis Sallas from Piraeus Bank, Dimitris Mantzounis from Alpha Bank, Alexandros Tourkolias from National Bank and Christos Megalou from Eurobank participated in the meeting.
Talks focused on how banks will provide liquidity to the real economy while also dealing with non-performing loans of households and businesses. Sources reveal the successful European Central Bank stress tests were also discussed.
After the meeting, Piraeus Bank chairman Michalis Sallas told reporters banks are ready to implement the law on non-performing loans that is hopes will help revive the real economy.
"The stress tests were a very positive development that clears the way for the financing of the economy", he said. Sallas added that Greece's return to growth was discussed at the meeting and that banks will help reach the estimated 2 – 3 pct growth target in coming years.
The Piraeus Bank chief also ruled out the possibility of banks auctioning off first homes of indebted customers. "Banks are not considering auctions, there's no reason, it must not be done and I don't see it happening" he said.
Banks were barred from auctioning most first homes owned by delinquent borrowers, under a temporary measure introduced in 2010 to protect austerity-hit households. An amended law protects first homes valued up to 200,000 euros.
Troika agreement
Meanwhile, deputy PM E. Venizelos told reporters after the meeting that the troika review will be completed by December 8, in time for a Eurogroup meeting. He also said Greece will have an agreement with its lenders before the election for a new President, so that the country will be able to turn a new page.
On his part, Finance Minister Gikas Hardouvelis appeared optimistic that troika officials will soon return to Athens to resume negotiations, while he also said there's still time to find a solution until the crucial Eurogroup meeting in December.
According to Hardouvelis, the troika officials have not submitted any new requirements and the issues that remain on the agenda are the ones already incorporated in the medium-term fiscal reform program.