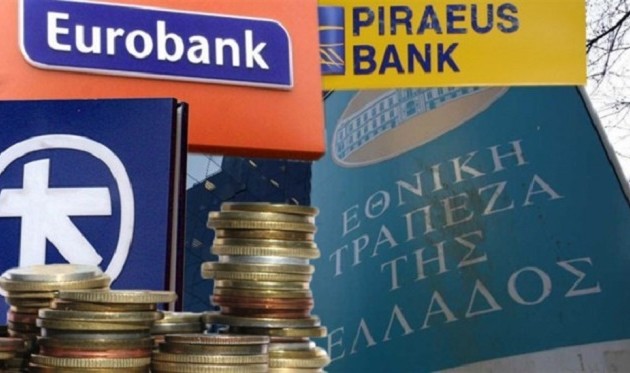 Athens, November 2, 2015/ Independent Balkan News Agency
By Zacharias Petrou
Τhe European Central Bank (ECB) revealed over the weekend that Greece's banks need to raise more than 14 billion euros in funds as part of their recapitalization.
The four Greek systemic banks – National Bank, Piraeus Bank, Alpha Bank and Eurobank – underwent stress test which showed that their needs stand at 4.39 billion euros under the baseline scenario and 14.4 billion under the adverse scenario.
The ECB assumed in the test that the Greek economy would shrink by more than 3 percent this year and next before growing modestly in 2017. The long recession in Greece has seen non-performing loans increase consistently during the crisis.
Loans at risk of non-payment have now increased by 7 billion euros to 107 billion euros.
The National Bank of Greece and Piraeus Bank fared worst in the ECB stress test. Piraeus must raise 2.2 billion euros under the baseline scenario, and 4.9 billion euros in total. National Bank is seen having a total capital shortfall of 4.6 billion euros, of which 1.6 billion arises from the baseline scenario. Alpha, which has the smallest capital shortfall, needs to raise 263 million euros under the baseline scenario, of a total shortfall of 2.7 billion euros. Eurobank has the lowest aggregate shortfall, totaling 2.2 billion euros, of which 339 million corresponds to the baseline scenario.
"We are encouraged by these results," said the European Commission in a statement on Saturday. "This is an important step in the implementation of the three-year Greek program under the European Stability Mechanism.
"The bank recapitalization process is an integral part of the efforts by Greece and its partners to restore confidence in the banking sector, so that capital controls can be gradually removed and affordable lending to the economy can resume," it added.
Greek banking sources maintain that the country's systemic banks will come out of the recapitalization stronger as investors are already showing interest in participating. The country's state-owned recapitalization fund, the Hellenic Financial Stability Fund (HFSF), will cover any the shortfall that isn't covered by private investors via a combination of new shares and contingent convertible bonds that banks will issue.
"The numbers, particularly under the baseline scenario, are satisfactory," Finance Minister Euclid Tsakalotos told Reuters. "We have indications that the European Bank of Reconstruction and Development will participate. This is a good sign for private investors and Greek citizens because it marks a long-term commitment to the banking sector," he said.
"We have every reason to be optimistic that the recapitalization process will be concluded by the end of the year" the Greek minister added.