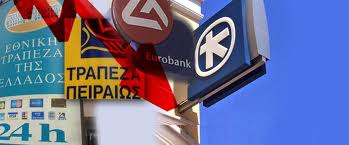 By Lefteris Yallouros – Athens
An amendment to a bill allowing banks to convert so-called deferred tax assets into tax credits was ratified in parliament Thursday with a majority vote as ruling New Democracy and PASOK MPs voted in favor of it.
The amendment comes weeks before the results of stress tests on European banks carried out by the European Central Bank are announced. "The proposed regulations will shield the country's banking system and limit the probability of the recapitalization of financial institutions in light of the stress tests conducted by the European Central Bank," the text of the bill states.
The rule change, will have a positive impact on banks as it allows the conversion of some of the assets into tax credits, which boosts capital adequacy ratios. When a company overpays taxes in one period, it can book a deferred tax asset that reduces its liability in the future.
The benefit to Greece's four largest banks may be between 3 billion euros and 5 billion euros, Bloomberg reported on Thursday, citing sources familiar with the plan.
Defending the bill in Parliament, Finance Minister Gikas Hardouvelis said that from a sum of 10 billion euros of tax credit acknowledged by the government following the PSI program and the banks' losses, nearly 3 billion euros were officially acknowledged as the four systemic banks' supervisory capital, ahead of a stress test.
"In the extreme case that in the next 30 years banks won't present any profits, the state will pay the related sum with the tax credit" Hardouvelis said.
"This money is not free. Banks will have to deliver shares of equal value to the state", he said while adding that Greek banks were becoming more attractive probably raising the future selling price of the state's equity stakes in them and reducing the possibility of activating the 11.4 bln euros of reserve capital held by the Hellenic Financial Stability Fund.