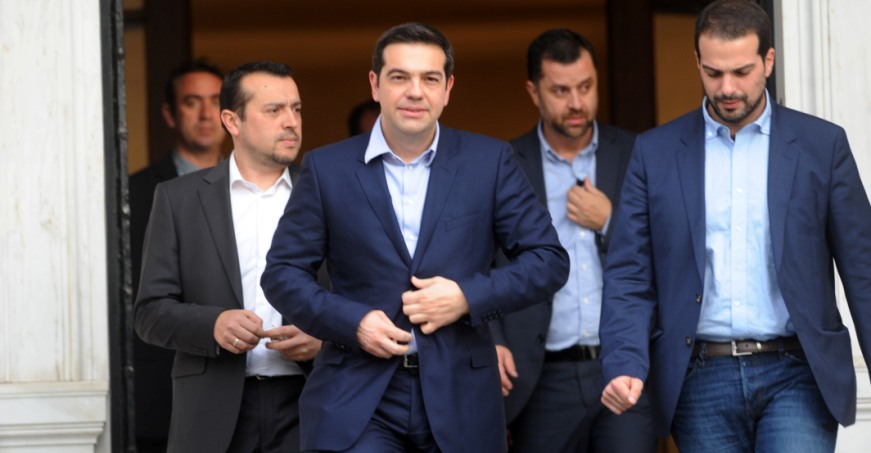 Athens, July 10, 2015/ Independent Balkan News Agency
By Zacharias Petrou
The Greek government's detailed reforms were put in writing and sent to EU institutions for scrutiny on Thursday. Earlier, they were approved by a cabinet meeting in Athens. Eurogroup chief Jeroen Dijsselbloem received the proposals and will circulate them to the other Finance Ministers.
The aim is for Eurogroup ministers meeting on Saturday to be in a position to recommend a loan, and some emergency bridging finance, which a full summit of the 28 EU leaders would approve on Sunday if they are satisfied with Greek reform commitments.
Greek officials were reportedly helped by technical experts from France and the European Commission to iron out the details of the country's new bailout program.
Parliament president Zoe Constantopoulou met with the Greek Prime Minister to agree on the procedure that will be followed in order for the proposed prior actions to be approved in parliament. Fast track procedures could be used to either:
a) vote some prior actions into law even tomorrow in a show of good will;
b) or have the House approve the government's proposed prior actions to show that MPs back the proposals. Specific measures could then be legislated as of Monday.
Greece's government will be encouraged to deliver a "precise plan" for its finances in order to inspire confidence among its euro zone currency partners, French President Francois Hollande said.
Overall, the Greek reform package is expected to be worth approximately EUR 12 billion. Most of that revenue will come from taxes and extensive spending cuts despite the fact that the recent referendum was read as a vote against more austerity.
To Potami leader Stavros Theodorakis has been in constant contact with Prime Minister Alexis Tsipras and is informed of the government's next moves. Theodorakis appears confident that Greek proposals will be credible and an agreement with creditors could be reached by Friday.
The US has become an important advocate for granting Greece debt relief, according to the Financial Times.
Government spokesman Gabriel Sakellaridis insisted on TV that agreement can be reached. "I am certain the agreement will pass the Syriza parliamentary group and the governing coalition. The government is doing everything it can to reach an immediate deal and end this cycle of uncertainty" Sakellaridis said.
The proposal submitted by Finance Minister Euclid Tsakalotos to the ESM on Wednesday requests a three-year loan program (reportedly worth approximately EUR 70 billion) and pledges to legislate tax and pension reforms early next week but without offering details.
Eurogroup president J. Dijsselbloem asked creditors to determine whether the request could pose a risk to the Eurozone banking system.
EU Council president Donald Tusk hinted that if Greek reforms are comprehensive enough, some sort of debt relief will have to be offered to the country, creating a win-win situation.
European Commission spokesman Margaritis Schinas told reporters that the Greek debt sustainability issue could be discussed in October.