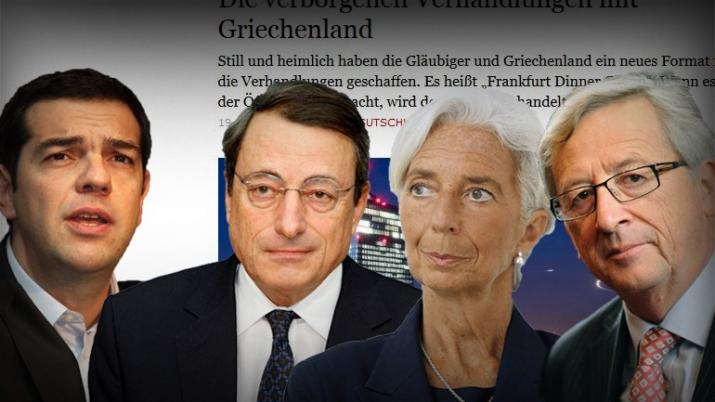 Athens, June 25, 2015/ Independent Balkan News Agency
By Zacharias Petrou
Crucial negotiations in Brussels over the future of Greece's bailout ended late Wedensday night without agreement.
The Eurogroup decided there's no point talking late into the night about Greece, as an agreement is still some distance away.
The meeting in Brussels quickly showed that there are still fundamental differences between Athens and its creditors over its bailout reform programme. It ended after barely an hour, having concluded that it isn't in any position to draw up the staff-level agreement needed to unlock aid for Greece. Instead, ministers will meet again in Brussels on Thursday. A European Council meeting is also scheduled.
Leaving the meeting, Eurogroup president Jeroen Dijsselbleom told reporters that ministers are "determined to continue work during the night if necessary".
The Eurogroup was followed by a meeting betweeen Greek Prime Minister Alexis Tsipras with Christine Lagarde, the managing director of the International Monetary Fund; Mario Draghi, president of the European Central Bank; and Jean-Claude Juncker, the president of the European Commission. The same group met for almost 7 hours earlier without breaking the deadlock.
Athens is refusing to accept the pension reforms demanded by the IMF, including raising the effective retirement age faster and phasing out the "solidarity grant" (EKAS) paid to the poorest pensioners.
The IMF, though, is insistent that Greece's proposal needs to be altered, putting less of a burden on businesses and accelerating the reform process with more spending cuts and less tax rises.
According to Greek government sources, the delegation of the Greek government arrived at negotiations with the text of the proposal which institutions had accepted as a basis for talks on Monday.
Institutions, on their part, submitted a new proposal. Greece rejected it straight away as it "transfers the burden to employees and pensioners in a socially unjust manner while at the same time weights are lifted off the wealthy".