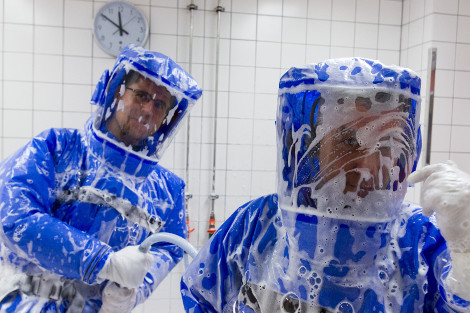 Review Hari Stefanatos
In order to enhance coordination and to assess the level of preparedness of the greek health authorities to tackle the Ebola virus, a broad meeting was held yesterday between the relevant health authorities with the initiative of the General Secretariat of Public Health and with representatives from HCDCP, CERECO, the National Reference Centre for arboviruses and hemorrhagic fevers of the Aristotle University of Thessaloniki and service agents.
Yesterday's meeting was held following the recent conference and continuous exchange of information between the European authorities, (ECDC, DG SANCO, DG MOVE,, EMA etc..), The World Health Organization (WHO) and the Member-States.
Little risk for european countries
Based on the newest epidemiological data, and despite the fact that there was a new outbreak of the epidemic of the Ebola group virus in Central Africa (Congo), the estimates of the European authorities agree that the risk of outbreaks in Europe is still very low.
Level of preparedness of Greek Authorities is good
Greek authorities have hitherto ensured a good level of preparedness and coordination, based on international and European directives, while at the same time contributing to the completion and systematic updating of these guidelines.
A sufficient number of clinical isolates in specially designed chambers at a large Hospital of Attica has already secured, there is properly prepared and qualified group comprised of doctors and nurses, and finally the necessary provisions of the technical equipment needed to protect personnel and hospitalized are in place.
Also completed is the preparation for managing a possible air transfer of a suspected or confirmed outbreak from a third country or from a remote area of Greece, and found that there is sufficient information in the gateways of the country mainly through travel directives issued by the Hellenic CDC and the corresponding material information, which is constantly updated.
Greek health authorities are in direct, continuous and systematic cooperation with the corresponding european ones, as well as with the World Health Organisation (WHO) and will properly inform the public of any significant developments.
(Source: In)