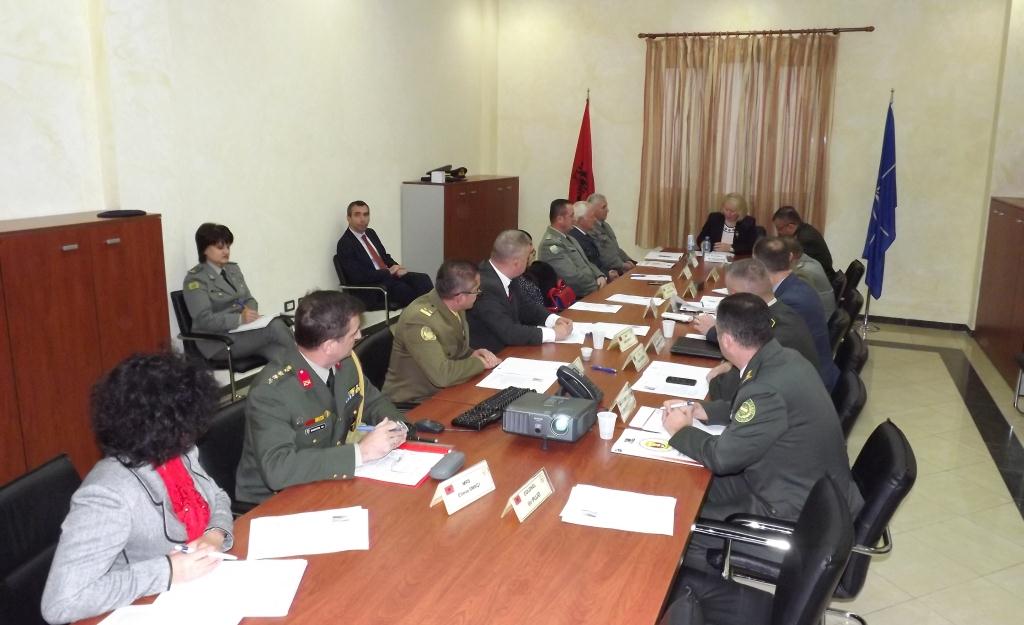 Yesterday (7 November), the ambassador of the Republic of Greece accredited to Albania, Mrs. Eleni Sourani held a lecture in front of students of the High Course of Security and Defence-2017 (KLSM) at the Academy of Armed Forces.
The Greek ambassador was accompanied by the Greek military attaché in our country, Col. Christos Bakirtzis.
Mrs. Sourani was received by the Commander/Rector of the Academy of Armed Forces, Col. Dr. Ruzhdi Kuçi.
Mrs. Sourani held a lecture dubbed: "Greek Perspective on the current Geo-political developments in Southeast Europe and the waves of refugees heading to Europe".
During this lecture, the Greek ambassador stopped on issues such as "Security Challenges in Europe"; "Situation in the Middle East", "Conflicts in Libya, Syria, etc", The European Union in front of emigration crises"; "On the situation in the Balkans"; "Greece-Nato relations"; "Greece-EU relations"; "Bilateral relations with Albania"; "Today's challenges of the Balkan region"; "Role of Greece in the Middle East"' "Crisis of emigration toward Europe"; "Management of the refugee crisis and the humanitarian crisis"' "Ministerial meetings in Europe and the region for the management of the refugee crisis and border security", etc.
In the meeting, the Greek ambassador praised the contribution that the contingents of the Albanian Armed Forces offer through the "Oriku" ship crews as members of the NATO mission in the different rescue and aid operations in the Aegean Sea.
Mrs. Sourani also answered to the questions made by KLSM-2017 in relation to the abovementioned topics.
On behalf of the participants of KLSM-2017, Col. Antonios Larmourtzus, a student of KLSM-2017, (representative of the Greek Armed Forces) handed to the Greek ambassador, Eleni Sourani "The Certificate of Honor for lecturing KLSM-2017".