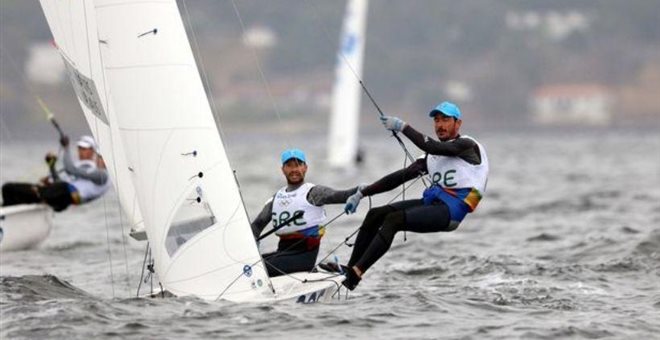 Rio, August 18, 2016/ Independent Balkan News Agency
Greek Panagiotis Mantis and Pavlos Kagialis gave Greece its fifth medal by winning Bronze at the Rio Olympics for the 470 Dinghy Sailing race on Thursday. The medal race, initially to have taken place on Wednesday, was postponed for Thursday following still winds.
Thursday's race proved unfortunate for the Greek pair, costing them their place in second position should still winds have prevailed. Croatian skipper Sime Fantela and Igor Marenic proved formidable competitors claiming Croatia's first ever Olympic sailing gold medal at Gunabara Bay. The Croatians had already earned themselves an 11-point lead and were certain of a medal when going to the finals. The two went into the race with a handy cushion ahead of Mantis and Kagialis, Greece's representatives.
Unfortunately, a mistake cost Greece valuable time causing the Australians to overtake them and gain Silver. They said that the change of winds cost them victory but they felt proud for their performance and pleased to have had such formidable opponents, including the brilliant Australian team that had performed so well during the London Olympics. "We fought for eight years for this success," said Kagialis, adding that losing the preliminaries for the London Olympics had made them think of quitting. Instead, they finally decided to become more stubborn and soldier own.
Kagialis remembered the years of training for this victory and the requirements of the sport that requres team spirit as well as knowledge of meteorlogy and other efforts. Mantis thanked those that supported and sponsored them making the victory possible. Mantis says that the sweet taste has only increase their appetite for more wins.