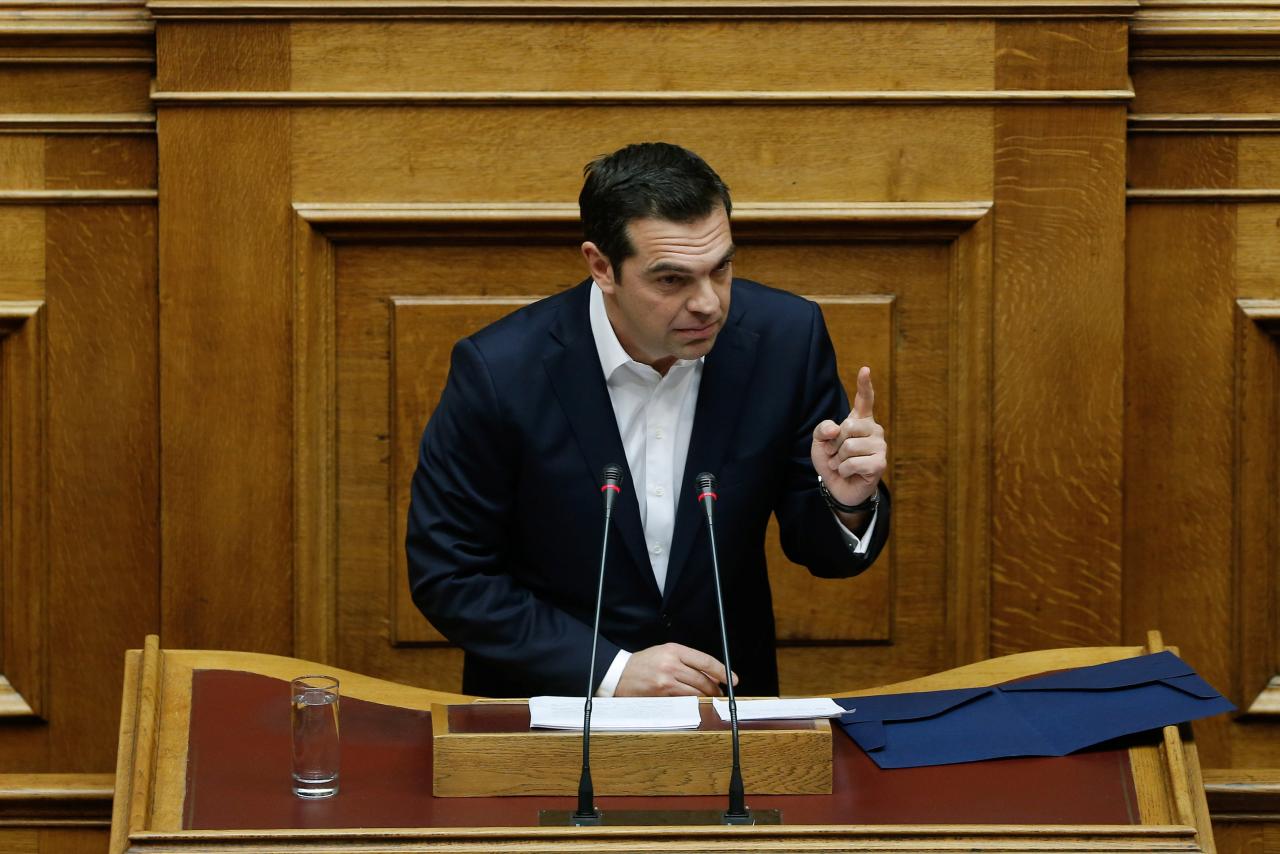 With 153 votes in favour and 144 against, the Greek parliament approved of Greece's 2018 state after completing a five-day debate.
The Greek state news agency, ANA-MPA reports that "A total of 297 lawmakers participated in the roll-call vote. The budget was approved by 152 MPs of the SYRIZA-ANEL governing coalition and the independent MP Theodora Megaloikonomou (former Centrists' Union MP). One SYRIZA lawmaker, Christoforos Papadopoulos, was not present but sent a letter to the parliament's presidency saying he would approve it if he was."
Contrary to the way the government parties voted for the 2018 budget, every single opposition lawmaker voted against it. "Two more MPs were absent –one from the Centrists' Union and an independent."
At the end of the debate by Prime Minister Alexis Tsipras and (main opposition) New Democracy (ND) leader Kyriakos Mitsotakis gave speeches over the budget and the state of the economy and crossed their swords.
The Greek premier reassures all that the country "will honour its commitments and achieve market access"
Alexis Tsipras stood before the parliament members before the vote, certain that Greece will honour the commitments it has made towards the institutions and achieve a stable and lasting access to the markets at favourable rates, based on the directives outlined at the Eurogroup meeting last June, reads ANA-MPA.
Addressing the lawmakers, Greece's PM said the only way for country to be done with bailout programmes "is for borrowing costs to return to acceptable levels" so that Greece is in position to fund its needs on its own, without expecting a support with limits from abroad.
"Three years ago, you spoke of a success story with rates for the 10-year bond at 8 pct. Today, we are talking about the end of the crisis for the simple reason that the rates in the 10-year-bond have already fallen-eight months before the end of the third program-  to 3.7 pct," he said, addressing the main opposition.
According to the European institutions, the aimed target in order to leave the bailout programmes "is for the 10-year bond rate to hover around similar levels as to those of 2009-that is, close to 4 or 4.5 percent, he continued, adding that, "Today, the 3.67 pct corresponds to the levels of borrowing Greece had in 2005-2006. When the crisis did not exist."
Tsipras supported the implemented reforms, underlining that they are bearing fruit and that country's image, globally and reiterated that ND should stop comparing Greece to Portugal and Cyprus, as they did not have to go for and sign a second rescue programme.
Regarding the handouts to more vulnerable people, the PM explained he sees it as offering equal opportunities to all "and dismissed claims of early elections, saying: 'There will also be a 2019 budget, because 2019 will be the election year.'"…/IBNA
Photo: Costas Baltas/REUTERS